Washington Nationals player Wilson Ramos abducted in Venezuela
(Read article summary)
The abduction of Washington Nationals player Wilson Ramos seems to be the first of a Major League Baseball player in Venezuela, although both homicide and kidnapping have soared.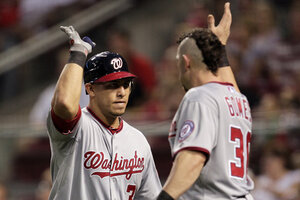 John Sommers II/Reuters/File
Venezuela's President Hugo Chavez – his travels and his tirades against the US – dominate news headlines in the US.
But while Venezuela's very serious crime problem is a growing issue for the president, it rarely gets the attention in the US that, say, Mexico's drug violence does.
That might change with some sad news today: An American professional baseball player, Wilson Ramos, was kidnapped in his native Venezuela. He is a catcher for the Washington Nationals.
A Washington Post blog says he had headed home to Venezuela for the winter. "He is one of the Nationals' best, most promising players, a rookie this past season who became the Nationals' regular catcher."
The youthful and handsome Ramos, just finishing his rookie season, was apparently abducted at about 6:45 p.m. in his home, about 100 miles west of the nation's capital, Caracas, on Wednesday. Four men drove him away in an SUV, reports say.
He was home to play on his Venezuelan league team, the Aragua Tigers. The spokeswoman of that team confirmed the kidnapping via Twitter. "This is sad, worrisome and true that Wilson Ramos has been kidnapped," Katherine Vilera wrote.
His Nationals teammates sent out notes of sympathy and hope for his safety over Twitter. See a sampling of their words here.
The Associated Press says the kidnapping "appeared to be the first case involving a Major League Baseball player."
Venezuela, especially Caracas, has been battling a major crime problem, which we have written about here and more recently here. A new report by the United Nations called the Global Study on Homicide shows that the murder rate has increased steadily to 49 per 100,000 inhabitants. That makes it one of the most murderous in the region, just behind Honduras, El Salvador, and Jamaica.
A US State Department travel advisory from July says that kidnappings are a growing problem throughout the country. "Violent crime in Venezuela is pervasive, both in the capital, Caracas, and in the interior. The country's overall per capita murder rate is cited as one of the top five in the world. The Venezuelan National Counter Kidnapping Commission was created in 2006, and since then, official statistics have shown alarming increases in reported kidnappings throughout the country. In fact, kidnappings in 2009 increased anywhere from 40-60 percent from the previous year. Surveys show that the overwhelming majority of kidnappings and other major crimes are not reported to the police."
While Venezuela and the US have their very real diplomatic differences, they share a love for baseball. The former US ambassador even attempted, as we wrote in 2006, so-called "baseball diplomacy."
But when it comes to kidnapping, the successes of native Venezuelans in the American game have cast some shadow on their family members. The AP writes, "In Venezuela, which is home to dozens of major league players, the families of wealthy athletes have been periodically targeted by kidnappers in hopes of a hefty ransom."
That has included the mother of retired major leaguer Victor Zambrano in November 2009. That same year the son and brother-in-law of Colorado Rockies catcher Yorvit Torrealba were kidnapped and released.
Most of these kidnappings are carried out for hefty ransoms. In the case of Ramos, so far there has been no word, at least publicly, from his captors.