North Korea threatens South over Yellow Sea naval drills. What will China do?
North Korea warned of a 'powerful physical retaliation' if South Korea goes through with naval drills in the Yellow Sea this week. The real concern is over how China will respond.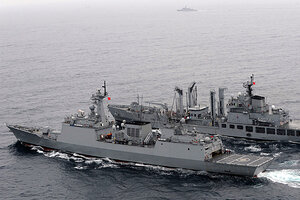 Korean Navy via Yonhap/AP
South Korea is sailing into naval exercises in the Yellow Sea on Thursday and Friday to the din of intimidating rhetoric from North Korea and rising fears about China's response to military drills in waters so close to the Chinese mainland.
Pyongyang's Korean Central News Agency on Tuesday quoted a military official warning of "powerful physical retaliation" if South Korean ships and planes go through with their latest attempt at enhancing their skills in antisubmarine warfare.
North Korea often issues strong threats without following through, but the latest warning comes from the regime's western command, which a South Korean investigation blames for the March 26 sinking of its corvette, Cheonan. Experts from the US, Britain, Australia, and Sweden on the investigation team found that a North Korean midget submarine had fired the torpedo that split the vessel in two, sinking it in minutes and causing the deaths of 46 South Korean sailors. North Korea continues to deny having anything to do with the incident.
The statement said that forces in North Korea's western sector had "made a decisive resolution to counter the reckless naval firing projected by the group of traitors." The North's western command coupled that vow with a warning for all shipping, notably the fishing boats that ply the area, to stay away for the duration of the South Korean exercises.
Despite the Cheonan sinking, however, analysts here see the rhetoric as similar to that with which North Korea greeted last week's joint exercises in waters off South Korea's east coast on the opposite side of the Korean peninsula, led by the US aircraft carrier George Washington.
How will China respond?
The real concern, though, is the Chinese response. The Chinese pressured the US and South Korea to move last week's exercises away from the Yellow Sea, making clear that such a show of force there was a threat to China. Exercises were instead held off South Korea's east coast.
Although US ships are not participating in this week's exercises, China has announced five days of "defensive exercises" in the Yellow Sea. "China says the two are not related," says Lee Jong-min, dean of the Graduate School of International Studies at Yonsei University here, "but of course they are."
Mr. Lee cites Chinese reports speculating about the chances of North Korea staging another nuclear test. At the same time, he sees China's concern about the Yellow Sea in the overall context of rising Chinese military strength. "They're sending a strong message," he says. "They are asserting their military powers. They are going to flex their muscles not only here but in the South China Sea and elsewhere."
China is essential to containing the North Korea threat, say security analysts. US special adviser for nonproliferation Robert Einhorn said Monday that China's support for new sanctions on North Korea is "critical" to their efficacy.
China: Drills 'bad for security'
The state-owned China News Service in Beijing was quoted in Korean newspapers as warning that the drills were "bad for security on the Korean peninsula" and "the rift with North Korea will deepen." If they go on, says the commentary, "the future of the Korean peninsula will be uncertain."
Lee Jong-min of Yonsei University sees little chance that North Korea will go beyond rhetorical blasts in attacking this week's drills. "On the minute chance that something happens," he says, "South Korea will launch a major response."
North Korea's western command qualified its rhetorical blast by vowing to "return fire for fire" – a turn of phrase that suggests North Korean forces will only fire in the unlikely event that a South Korean vessel fires first.
Related: