Japan earthquake: 5 ways the international community is helping
Japan has received offers of assistance from 14 international organizations and 102 countries (including a number of unexpected aid donors such as embattled Afghanistan and poverty-stricken Cambodia), according to the latest report from the UN Office for the Coordination of Humanitarian Affairs.
Japan has accepted help, mostly in the form of search and rescue teams, from 15 countries. Here is an overview of some of the help pouring into Japan as it struggles to dig out from Friday's 9.0-magnitude earthquake and resulting tsunami.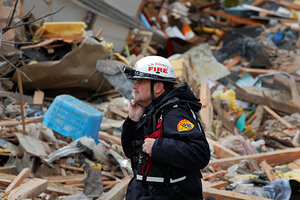 Itsuo Inouye/AP
United States

The US is sending the largest contingency to Japan: 148 personnel and 12 rescue dogs hailing from Los Angeles and Fairfax County, Virginia. They will be mostly operating in Ofunato, about 100 miles northeast of Sendai and northwest of the earthquake's epicenter.

A US aircraft carrier, the USS Ronald Reagan, has been diverted from exercises near South Korea to the Japanese coast, where it is serving as a refueling platform for Japanese helicopters conducting search and rescue efforts. The US military has also been assisting with humanitarian aid drops when needed.

But Japan has an effective, well-oiled disaster relief infrastructure, making it more capable of responding to the earthquake and tsunami than any other country that could swoop in. The main thing it needs now is cash, which it can then use as it sees fit, according to USAID, which is tasked with coordinating US government assistance, NPR reported.

As of right now, $100,000 has been offered to Japan via the US embassy in Tokyo, according to an embassy briefing.