Public calls for change of track following bullet train crash in China
Online messages allowed Chinese to learn quickly about an accident involving two new high-speed trains. The public has reacted furiously to a lack of transparency about the cause.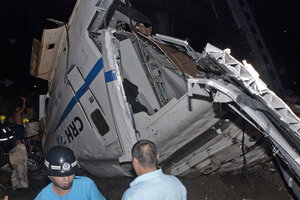 AP
A deadly bullet train accident in China over the weekend has resulted in a media firestorm that has driven the Norwegian shootings off the front pages of Chinese papers and resulted in the removal of three railway officials and a nationwide investigation.
Anger, mixed with conspiratorial rumors, spread quickly online and illustrated not only the latest blow to China's bullet train ambitions but also a growing lack of trust in official media and the government.
According to Zhang Jian, a lecturer with the School of Government at Peking University, "this is definitely not limited to the Ministry of Railways. I would rather call it an outpouring of general demand for transparency of government. This accident is a just a trigger."

Recommended:
South China Sea deal eases US-China tension
On Saturday evening, two of China's much touted new high-speed trains were traveling south along China's eastern coastline, both headed to the capital of Fujian Province.
According to local media reports, one train encountered bad weather and came to a halt on the outskirts of Wenzhou. Not long after, the second train plowed into the back of the stalled train, derailing two of that train's rear cars and pushing four of its own over the edge of the elevated tracks to a farm below.
At least 39 people have been reported dead, with more than 190 people injured.
China's high-profile push to build a cutting-edge high-speed rail network, and lingering suspicions about safety since the former railway minister was sacked in February for corruption, have focused significant public attention on high-speed trains.
How the news spread
The train accident has become the latest in a series of scandals that has played out on Sina Weibo, the most widely used microblogging platform on the mainland. Weibo had already become a central platform for sharing doubts about the safety of the new Beijing-Shanghai high-speed rail link in the fortnight leading up to the crash.
News of the accident broke on the microblogging site, which is similar to Twitter, when passengers aboard both trains began to post messages about the accident and ask for assistance.
A series of delays and power outages hit the train service only weeks after it began commercial operations on June 30 – carefully timed to coincide with the eve of the 90th anniversary of the founding of the Chinese Communist Party.
Many of the reports of these delays were being posted to Weibo by passengers trapped for extended periods on trains halted at awkward angles, sometimes without electricity.
"The high-speed rail is creeping along now at a speed of about 5 kilometers per hour, and moreover it's still going in fits and starts. It's like a sightseeing car ... What people find really strange is that the whole car is leaning really severely to the right!" according to one disgruntled passenger's post to Weibo as translated by the China Media Project, a website run out of the Journalism and Media Studies Center at The University of Hong Kong.
As news of the collision spread online Saturday evening, Weibo was a major conduit for discussion about possible causes of the accident and the latest news in regards to casualties, the rescue effort, and where to donate blood.
Change in tone
Once the initial shock wore off, concern about the rescue effort swiftly switched to anger.
Many users of the online platform expressed their suspicions that much of China's high-speed rail had been constructed too quickly. Some observers pointed out that safety mechanisms touted during construction appeared to have failed.
"China, please stop your flying pace, wait for your people, wait for your soul, wait for your morality, wait for your conscience! Don't let the train run out off track, don't let the bridges collapse, don't let the roads become traps, don't let houses become ruins," wrote Tong Dahuan in an editorial with Youth Times. The widely quoted piece seemed to catch the essence of people's concerns and was translated by The New York Times.
At another microblogging service run by Tencent, one of China's largest Web portals, many severe criticisms of railway officials made it past censors. Some even called for railway officials to be dragged out and shot.
Accusations that the death toll was being manipulated and that one of the derailed train cars had been destroyed and buried in an attempt to avoid a thorough investigation, combined with an announcement on Sunday of the three officials' removal, only led to further skepticism.
"Why was firing both the director and party head of the Shanghai Railway Bureau, along with a deputy director, the first thing they did when handling the accident? If the cause of the accident was a lightning strike that led to equipment failure, why did they need to fire anyone?" asked Bai Yansong, a well-known commentator with CCTV News.
Whatever the official findings by the State Council-led investigation, calls for greater transparency and accountability will continue to be expressed on these new media platforms as long as Chinese believe that the truth is being hidden from them at a cost to health, welfare, and safety, say observers.
"Over the last few days on this railway disaster, we've been watching the complete breakdown of government credibility on this issue. We're watching a government resorting to the same old backward tactics of secrecy and propaganda before a population that is far more skeptical and far more engaged than ever before," David Bandurski, a researcher at the China Media Project at The University of Hong Kong, noted in an e-mail to the Monitor.