Javascript is disabled. Quiz scoring requires Javascript.
Kim 101: How well do you know North Korea's leaders?
North Korea's supreme leader Kim Jong-un succeeded his father, the late Kim Jong-il, in late 2011. In his first six years, Mr. Kim has expanded North Korea's nuclear weapons program and has insisted that nuclear arms proliferation is off the negotiation table. But the Kims are known as much for their eccentricities and cults of personality as they are for their iron-fisted rule. How well do you know Kim Il-sung, Kim Jong-il, and Kim Jong-un?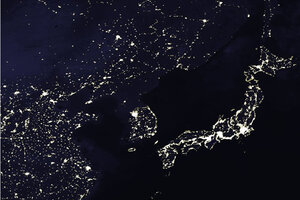 Nasa/AP
1.

The Kims have ruled North Korea since it became a country in 1948. North Korea is about the size of what US state?