Aung San Suu Kyi's historic moment: 5 things to know
Once possibly the world's best-known political prisoner, today Aung San Suu Kyi made the historic move to lawmaker, after a swearing-in ceremony at Myanmar's parliament in the capital of Naypyidaw. Here are five things about her: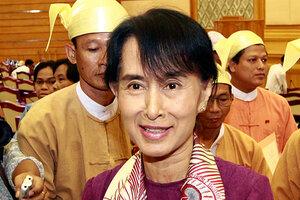 Khin Maung Win/AP
1.

Who is Aung San Suu Kyi?

Aung San Suu Kyi leads the National League for Democracy (NLD), a minority grouping in Myanmar's army-dominated parliament.

She spent most of the past two decades under house arrest. Her crime? Winning a landslide victory in a 1990 election, held two years after she made her political debut in the country then known as Burma.

In 1988 Aung San Suu Kyi traveled to Burma to tend to her ailing mother, but was soon drawn into the political ferment. Opponents of Burma's military rulers sought a leader after student-led pro-democracy protests were crushed by Burma's army leaving some 3,000 dead and thousands more in jail.

Her first political speech that summer drew some half-million people. As the daughter of a post World War II independence hero, she was the obvious choice for many, despite spending much of her life outside Burma married to a British academic with their two young sons.

Her husband Michael Aris was diagnosed with cancer in 1997 and died two years later. The Burmese rulers denied him a visa to visit his wife despite a terminal diagnosis. She refused to leave Myanmar to visit him, as she feared the Myanmar junta would never let her return. The last time Aung San Suu Kyi saw her husband was in 1995.