Why is China cheering US lifting of arms embargo on Vietnam?
Beijing outwardly praised the end of the decades-long embargo.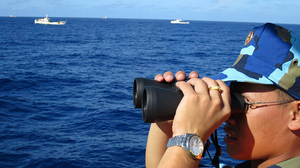 Martin Petty/Reuters/File
China's answer to President Obama's announcement Monday that the United States will begin selling arms to Vietnam was ambiguous: It outwardly praised the end of the embargo, even though it is seen as a counter to Chinese aggression in the South China Sea.  
"We certainly hope that the development of this friendly relationship can be conducive to this region's stability and development," said Hua Chunying, a spokeswoman for the Chinese Foreign Ministry, during a press briefing.  
China's reaction is surprising considering its relationship with Vietnam and its other neighbors in the South China Sea, as well as its feelings about US tole in territorial disputes there. But, at least one analyst said it exemplifies how complicated relations between the two world powers are.     
"[F]or the moment, the Chinese foreign ministry's response was reasonable," Zhu Feng, executive director of Nanjing University China Center for Collaborative Studies of the South China Sea, told The Wall Street Journal. "We don't want to look overly sensitive or irritated, because U.S.-China relations are very complicated and very important."  
Mr. Feng said "the lifting of the arms embargo sent 'a sobering signal' to leaders in Beijing about a potential power shift in the region, but it was difficult to judge the real impact without seeing what other moves the U.S. planned to make," the Journal reported.  
Tensions have increasingly grown in the South China Sea since 2014 when China began building islands on top of reefs there. "In addition to surface-to-air missiles and radar facilities, the islands are also expected to station Chinese warplanes.... The scale of the multibillion-dollar effort by China has challenged the military status quo that has defined the Western Pacific since the end of World War II," the Monitor's Michael Holtz previously reported.
The end of the weapons embargo is seen by some as the US's response to Chinese aggression in the region. Vietnam will have access to US military weapons and technology that China has "long coveted but can't access" because of a weapons embargo imposed on it by the US and European Union in 1989, according to the Associated Press.  
Obama said the lifting of the arms embargo had nothing to do with China, but said it and "Vietnam had mutual concerns about maritime issues and the importance of maintaining freedom of navigation in the South China Sea," AP reports. "While Washington doesn't take sides, [Obama] said, it does support a diplomatic resolution based on 'international norms' and 'not based on who's the bigger party and can throw around their weight a little bit more,' a reference to China."
Meanwhile, Beijing's neighbors in the South China Sea aren't taking any chances, writes the Monitor's Peter Ford.  
America's friends are getting together directly, in all sorts of ways and at all sorts of levels. 

There are trilateral mechanisms, such as the high level talks that began last year among Japan, Australia, and India on topics including maritime security. Or bilateral deals, such as India's $100 million loan to Vietnam to buy patrol boats, and Japan's leasing of five surveillance aircraft to the Philippines, bolstering those Southeast Asian nations' ability to keep an eye on waters where China challenges their territorial claims. 
This report contains material from the Associated Press.