Will tougher UN sanctions cool North Korea's nuclear ambitions?
The 15-member UN Security Council tightened sanctions Wednesday following North Korea's latest nuclear tests in September.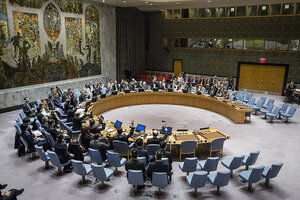 Manuel Elias/ United Nations via AP
Following North Korea's latest nuclear missile test in September, the United Nations imposed additional sanctions Wednesday on the isolated dictatorship, hoping international pressure will dissuade the nation from further developing its nuclear weapons.
The resolution, drafted by the United States and approved unanimously by the 15-member UN Security Council, tightens economic sanctions and for the first time threatens to suspend North Korea's privileges at the UN, in whole or in part, if it refuses to comply. The nation's biggest ally and largest partner in commerce, China, offered its critical approval of the measures, noting that they are not designed to harm the humanitarian situation in North Korea, officially known as the Democratic People's Republic of Korea (DPRK).
"The resolution adopted by the council today demonstrates the uniform stand of the international community against the development by DPRK of its nuclear missile programs and forward the maintenance of the international non-proliferation regime," China's Ambassador Liu Jieyi said following the vote. 
Under the new sanctions, North Korea's cap on coal exports will be reduced by roughly 60 percent, with bans on exports of several metals and new limits on its statue-export industry. Eleven officials and ten other entities connected with the nuclear program will be subject to a travel ban and asset freeze.
Japan's Ambassador Koro Bessho said the ultimate goal is to revive international talks with North Korea and bring it back to the negotiating table.
"We are introducing the sanctions, not for the sake of introducing sanctions but in order to change the course of DPRK policy," Ambassador Bessho said. "If the DPRK shows commitment to denuclearization, serious commitment and concrete actions, we are certainly ready to come into dialogue with them and try to solve the situation."
North Korea's dogged pursuit of missiles and nuclear weapons has long plagued US presidents with diplomatic challenges that, thus far, remain unsolved. The most recent direct negotiations to dismantle the nation's nuclear program in exchange for aid disintegrated in 2009, so American authorities remain cautious.
"No resolution in New York will likely, tomorrow, persuade Pyongyang to cease its relentless pursuit of nuclear weapons," said Samantha Power, the US ambassador to the UN. "But this resolution imposes unprecedented costs on the DPRK regime for defying this council's demands."
The country's fifth nuclear test, carried out in September, underscore its technological advancements, and the need for the international community's North Korea strategies to get "smarter," not just "tougher," as The Christian Science Monitor's Howard LaFranchi reported at the time:
...simply doubling down on more sanctions isn't enough. China will need to be brought in as a bigger part of the solution, and the international community might well have to consider the first direct talks with North Korea since six-party talks collapsed in 2009, says Jim Walsh, an expert on North Korea's nuclear program.

"Sanctions by themselves aren't going to work, this year has proved that," says Dr. Walsh of the Massachusetts Institute of Technology's Security Studies Program. "It has to be sanctions married to a political strategy."

A return to the negotiating table with Pyongyang realistically would not occur until after President Obama's successor settles into the White House, he adds. But there are things the United States can be doing now, and first among them is working more closely with China to slow North Korea's progress.

"Ninety percent of North Korea's trade is with China, so us simply wagging our finger at them won't work," Walsh says.
North Korea, which has been under UN sanctions for a decade, is technically still at war with its southern neighbor, South Korea, because the Korean War ended in 1953 with an armistice, not a peace treaty. To this day, the North regularly threatens the South and its main ally, the US.
In light of these overlapping interests among allies and enemies in the region, China's Ambassador Jieyi criticized the US deployment of a Terminal High Altitude Area Defense (THAAD) anti-missile system in South Korea as a potentially destabilizing presence that could counteract the effects of the sanctions.
UN Secretary-General Ban Ki-moon told the council that their cooperation would be key moving forward.
"Sanctions are only as effective as their implementation," he said. "It is incumbent on all member states of the United Nations to make every effort to ensure that these sanctions are fully implemented."
This report includes material from Reuters and the Associated Press.