Pakistani Taliban advance beyond Swat
They have taken control of Buner next door and made forays into two more districts.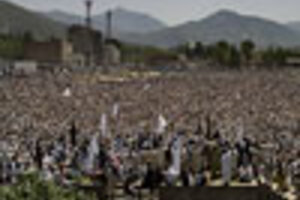 BK Bangash/AP
First they won control of Pakistan's Swat Valley. Then they easily took over Buner District next door. Now the Taliban appear to have set their sights on two more neighboring areas as they continue to drive deeper into Pakistan.
Some analysts say that, for the time being, the Taliban are likely restricted to rural areas in the northwest – it's unlikely, for example, that they could take over the nearest major city, Peshawar, where the provincial government of the North West Frontier Province is based.
Still, the militants appear intent on expanding their influence. And in the NWFP over the past several weeks they have faced little resistance from either the populace or government security forces.
"If they stay in Buner longer they will continue their drive," says analyst Rifaat Hussain, of the Quaid-i-Azam University in Islamabad. "The fact they were able to take over so easily will encourage Taliban from other districts to do the same."
The Taliban progress
In Buner, where the Taliban consolidated their control this week, militants have begun patrolling bazaars, villages, and towns, according to a leading English-language daily newspaper, Dawn. For the past six days, they are reported to have been looting government and NGO offices for supplies and four-wheel-drive vehicles.
Leading politicians, bureaucrats, prominent businessmen, and judges have fled the area, says local reporter Abdur Rehman Abid. "The people of Buner feel they have been abandoned to God's will."
Taliban members have also set up checkpoints along Buner's borders with the districts of Mardan and Swabi and are making forays into those areas, Mr. Abid continues. Mardan lies southwest of Buner, toward Peshawar, and is home to NWFP Chief Minister Amir Haider Khan Hoti. Swabi borders Punjab Province, Pakistan's populous heartland.
The fall of Buner comes at a sensitive time for the government, which is trying to maintain a controversial peace deal with the Swat Taliban that was negotiated by hard-line cleric Sufi Mohammad. The government agreed to impose Nizam-e-Adl regulations, a form of Islamic law, or sharia, in the area if the Taliban stopped fighting their troops.
But since President Asif Ali Zardari and the National Assembly officially approved the deal last week, militants in Swat have declared that no other Pakistani courts have jurisdiction over the area and have refused to put down their guns.
On Sunday, Mohammad sparked further controversy nationwide when he declared at a rally in Mingora, the capital of Swat, that there is "no room for democracy" in Islam – raising concern that the Taliban aim to impose their interpretation of sharia well beyond the northwest.
"They are now threatening to get out of Swat and take other areas into their custody. So, we've got to avoid that situation," former prime minister Nawaz Sharif, who has in the past gained popularity for his anti-American stances, told USA Today Tuesday.
Critics of the Swat agreement have called it "appeasement."
"If [the Taliban] manage to consolidate their influence here [in Buner] they will play the politics of falling dominoes," says Mr. Hussain, the analyst. "Sufi Mohammad made it clear in his speech – they are targeting the whole of Pakistan."
And if the government continues to make deals with the Taliban, Hussain continues, they may be tempted "to go for the jugular" and lay siege to the city of Peshawar.
'We will not lose hope'
But provincial legislators of the Awami National Party, which governs the NWFP, appear more keen on keeping the peace going.
"We will not lose hope. The peace in Ireland took 30 years; we're asking for 30 weeks," says Haji Adeel, senior vice president of the ANP. He says that the government has sent for eight platoons of Frontier Constabulary, a paramilitary force, to patrol Buner, but adds that the basic problem is the Taliban expect too much, too soon.
"They [the Taliban] don't understand we need time and money to meet their demands to create and staff sharia courts. Sufi Mohammad doesn't understand the way bureaucracy works."
He adds: "So far, the Taliban haven't kept to their side of the bargain. We were expecting everyone to lay down arms and live like decent and ordinary citizens, to act according to the rules."