Are Pakistani Taliban finding new foothold in south?
Analysts say political leaders could strengthen militants' appeal if they do not manage deep ethnic tensions – which resulted in clashes that killed 30 people last week.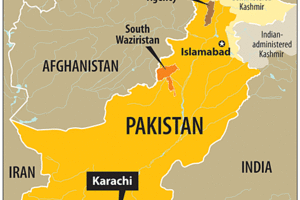 Rich Clabaugh/Staff
Rows of jingle trucks and shanties line either side of the Super Highway as it pushes north from sea-swept Karachi into Pakistan's dusty interior. These are the homes and work vehicles of the city's growing ethnic Pashtun population – and, according to Haider Abbas Rizvi, they form a Taliban haven.
"I cannot dare enter this place. Nobody can, not even the police and the Rangers," says Mr. Rizvi, a member of Parliament with the secular MQM party. "This summer is going to be very hot – I don't know if [the fight] is going to be happening in the North [of Pakistan] or down here."
Though the Taliban operate mainly in Pakistan's northwestern tribal agencies and are battling the military near there, MQM leaders in this southern city are sounding the alarm that Pakistan's financial capital and main port will be the militants' next battleground.
They point to internal police memos and journalist reports that the Taliban are finding new sanctuary for their leadership, raising funds through criminal activities, and – with the influx of Pashtun refugees from Pakistan's war zones – deepening their pool of recruits by tapping into religious seminaries.
Some analysts caution that the MQM is overlaying anti-Taliban rhetoric on a long-running ethnic struggle within the city. Yet the ethnic divides here are cause for concern because they create rallying cries for organized violence, conditions the Taliban could exploit to disrupt this port on the Arabian Sea – and the nation's trade.
"If the Taliban wanted to destabilize Karachi, ethnic riots would be one of the first things they would do," says Ahmed Rashid, author of "Descent into Chaos." "By taking charge of the political leadership of that political movement, they could start taking over large chunks of Karachi."
Potential recruiting ground
For years, Karachi has been rocked by ethnic violence between Pashtuns and the dominant Mohajir community. Just last week, street fighting killed at least 30 people. Mr. Rashid echoes other analysts who see little new in this violence – but he would worry if the young men in religious seminaries, or , get involved.
"The  are full of Taliban. The  were not given a call to come out in the streets and take control of the streets, which they could do very easily," he says.
Karachi has an estimated 3,500  containing tens of thousands of students.
Mitigating the fears of Talibanization, though, is that  students here come from other ethnic backgrounds, and that many Pashtuns have no use for the Taliban, notes Rashid.
"The majority of Pashtuns are moderates," he says. "They don't support the extremist Taliban."
Many of the 3.5 million Pashtuns in this city of 18 million have been in Karachi since the 1980s. They are primarily manual laborers and truckers running goods from the port to the rest of the country, including NATO supplies into Afghanistan.
Now, more Pashtuns are coming to Karachi due to the fighting in the Swat Valley and neighboring Bajaur. An additional half million civilians are expected to flee Swat following Tuesday's government-ordered evacuation. On Wednesday helicopter gunships and mortars pounded Taliban positions, with the military saying it killed about 35 militants in Swat and 27 in neighboring Buner. Four soldiers also died in the fighting.
Incoming Pashtuns have not been integrated smoothly into this deeply segregated city. Instead, ethnic-based land mafias battle in the streets over new areas to settle. In this struggle, the Pashtuns view the MQM-led government as stacked against them.
'Talibanization' as pretext?
Known as the Muttahida Quami Movement, the MQM rose to dominance over the city and wider region by representing the interests of the majority Mohajir community. The Mohajirs are Urdu-speakers who fled India when the subcontinent was partitioned in 1947.
"The MQM has been after our lands and jobs for years and now they're trying to make everyone scared of us," says Yahya Khan, a Pashtun truck driver who lives in Orangi – Karachi's largest slum, where both Pashtuns and Mojahirs live.
Some analysts agree. "It's the MQM and the government that are targeting Pashtuns in the name of the Taliban," says Riaz Ahmed, a Mojahir and local leader of the International Socialists of Pakistan.
Karachi's mayor, Mustafa Kamal, flatly denies that the MQM is using the warnings of Talibanization to pick an ethnic fight. He says that 90 percent of the $2.5 billion the city has spent on infrastructure in recent years has gone into Pashtun pockets.
But, he says, city leaders cannot just wait "for the disaster to take place," and have urged police and residents to work together to root out Taliban.
"I am not saying that the Taliban is here – everyone is saying that the Taliban is here," says the mayor.
He produces newspaper clippings over the past 14 months reporting the arrests of more than 75 Taliban, Al Qaeda, or other Islamist suspects.
He also points to a leaked memo sent by city police to their provincial superiors. The memo cites "reliable sources" that Taliban under the command of Naib Ameer Hassan Mehsood are taking shelter in a neighborhood called Sohrab Goth.
"After every 30 to 35 days, 20 [to] 25 Mehsood [Mehsud] terrorists come from Waziristan – for rest as well as for generating funds," reads the document, labeled "top secret." They raise money, the document charges, through kidnapping for ransom, bank robbery, and street robbery."
The report also warns of danger to the mayor and other MQM leaders, and says that late at night, everyone except Mehsud militants are barred from entering the Super Market area.
Pashtuns come for 'place to stay'
However, the police chief who oversees Sohrab Goth downplays the concerns.
"It is not true that militants have infiltrated this area," says Irfan Bahadur. "People think that all the refugees who have come [from FATA] are Taliban. But most of them are villagers who had family in Karachi and came here because they knew they would find a place to stay and help finding a job."
Despite the recent ethnic violence, he says, "no new elements are causing trouble [and] the situation has not drastically changed in recent weeks."
Still, there's a recognition on all sides that ethnic street violence should not be allowed to fester. To that end, Prime Minister Yousef Raza Gilani came to Karachi on Friday to meet with politicians and police.
MQM wins anti-Taliban plaudits
Right now, the moderate Awami National Party (ANP) largely represents the Pashtuns in Karachi, and when it comes to Talibanization, the ANP and MQM disagree.
"There are no Taliban in Karachi," says Muhammad Amin Khattak, general secretary of the ANP in Sindh Province.
He says the MQM has latched on to the issue to raise their status from a regional party to one that can play on the national and international stage. Indeed, the MQM has already won recognition as the only party in Pakistan to vote against the government's peace deal with the Taliban in Swat, which is now defunct as the Army moves back into the area.
Yet the ANP and MQM did agree with Mr. Gilani to form a joint investigative team to more effectively crack down on criminal gang activity before it can escalate.
"We see a pattern emerging here, with small incidents building up to major conflagrations," says Javed Jabbar, a former federal minister and lecturer at University of Karachi. "Ethnic trouble in Karachi doesn't happen out of the blue. It is always part of a sequence of events."