US operation aims to smooth road for Afghan elections
Afghanistan hopes to gain control of more of its territory before August elections. The Taliban could disrupt voter turnout in areas it holds.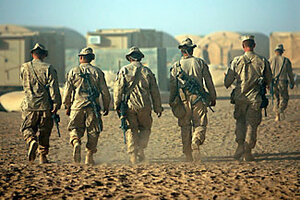 Ahmad Masood/Reuters
With national elections less than two months away, the Afghan government is hoping to bring more areas under its control with the help of a new US-led military campaign.
The Taliban, who hold sway over large swaths of the country, could disrupt turnout among voters, calling into further question the legitimacy of an election already dogged by registration irregularities and a fractured opposition.
"In order to increase the legitimacy of the election it is [crucial] to allow people to open voting booths in every district of Afghanistan, and in Helmand most are under the control of the Taliban," says Kabul-based analyst Haroun Mir.
Nearly 4,000 US Marines and 650 Afghan troops poured into Helmand Province Tuesday in an attempt to take back the Taliban stronghold. (To read more about the offensive, click here.)
But simply securing control over every district won't solve all the problems swirling around the August 20 vote for president and provincial councils, analysts caution.
Voter enthusiasm has weakened after opposition candidates failed to form a strong alliance to challenge incumbent President Hamid Karzai, says Mr. Mir. He also notes that securing more voting stations in Helmand will probably further benefit Mr. Karzai, given the ethnic and tribal ties he has there.
And voters deciding whether to head to the polls will not only be weighing their personal safety, but the legitimacy of the government itself, says Nick Grono, an Afghanistan expert with the International Crisis Group (ICG) in Brussels.
Democracy's green shoots?
Some analysts see positive glimmers in the voter registration results. Some 4 million Afghans added their names to the voting rolls in a voter registration drive that began last year, far exceeding expectations given the deteriorating security situation.
"It does give some hope," says Col. Christopher Langton, a retired British Army officer and Afghanistan expert. "But one has to balance that by saying registration isn't voting."
Registrars went out to people to help them sign up; voting requires people to go somewhere on their own, says Colonel Langton.
Also tempering optimism about the registration: In some provinces, registration tallies exceed the recorded population. In a report last month, the ICG called on the election commission to perform extra audits in areas showing registration irregularities, as well as in regions too insecure for independent election observers.
"There are indicators that these elections will be problematic, and security will be an issue that will effect everything from turnout to just the legitimacy of the process," says Mr. Grono.
NATO's strategy for providing election security doesn't differ much from the last presidential election in 2005, says Langton. The focus will be on securing routes for people to get to the polls, as well as beefing up security around the polling stations themselves. "It's going to be very manpower intensive," he says.
The numbers of capable Afghan security forces to help in this process are lagging, notes the ICG report. Estimates for actual police on the ground range from 35,000 to 55,000, and "police actions have failed to gain citizens' trust and have even actively undermined support for the administration because of the abuse of authority," the report reads.
Start of the surge
US President Barack Obama has ordered an additional 21,000 forces to Afghanistan to provide better security for the population and training for the local military and police. Today's operation marks the first large-scale use of the additional US manpower.
Showing that the US can take and hold some of the districts lost to the Taliban will help. The United Nations Assistance Mission to Afghanistan estimated in December that the government had no control of 10 districts out of 398 total and had problems accessing another 165. Mir puts the number of lost districts at 34.
"If [NATO] can secure areas in another 20 districts for the credibility of the election, it will be good," Mir says. More secure districts mean more districts with independent monitors. "Some of the candidates will come out and accuse the winner of fraud," he says. "But this is Afghanistan. You cannot control and monitor 100 percent."