Pakistan Taliban: US drone strikes forcing militants underground
Some Pakistan Taliban officials say leaders now meet in secret for fear of US drone strikes. But they vow to keep up their own offensive, as evidenced by a string of bomb attacks last week that killed 70 people.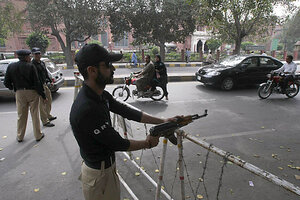 K.M. Chaudary/AP
Bajaur Agency, Pakistan; and New Delhi
Some Pakistan Taliban members in the tribal areas say the onslaught of US drone attacks and Pakistani offensives in recent months is forcing the group underground and creating fractures.
But they threatened to maintain their own suicide and car bomb campaign – a threat borne out over the past week in a string of suicide bombs in Lahore and the northwest that killed at least 70 people.
Such attacks serve as a reminder that the Pakistani Taliban remain far from finished off despite losing territory, momentum, and top leadership over the past year.
IN PICTURES: Drone jockey: New Air Force poster boys
"Our meetings take place on a regular basis, but the leadership is underground due to security concerns…. It is not only because of drones, but the Pakistani Army, too, is targeting us," says Taliban spokesman Tariq Azam in a phone interview from an undisclosed location.
"The Taliban will continue to strike back if the drone attacks are not stopped," he says.
Taliban on the run
A visit over the weekend to the Bajaur tribal agency on the Afghan border appears to back up recent military announcements that the region has been cleared of militants.
Local tribesmen, with the help of Pakistani security forces, have formed lashkars, or armed posses, numbering in the hundreds. Together they have torched more than 100 homes of Taliban members and supporters and destroyed some training camps.
The operation in Bajaur follows a series of campaigns in the northwest meant to stop the Taliban's expansion into new territories. The offensives have pushed in multiple directions, to South Waziristan at the southern end of the tribal belt and to Bajaur in the north.
Taliban and Al Qaeda fighters who escaped Bajaur have fled with their families to Charmang, in a corner of Bajaur. The retreat came at a cost: A large number of weapons, stolen vehicles, explosives, and drugs have been recovered from their houses and cave hideouts.
But still launching attacks
Despite the dramatic rollback, the group has claimed a string of suicide attacks this week in Lahore and the Swat Valley – a reminder that fighting is nowhere near over and that that the Taliban continues to maintain a presence in settled parts of Pakistan. Suicide bombers in Swat killed 13 people on Saturday and two attacks last week in Lahore killed at least 58.
"The TTP [Taliban] is definitely under pressure. It's no longer working in a very coordinated way, they are on the defensive, and the initiative has been taken away from them," says Gen. (ret.) Talat Masood, a security analyst in Islamabad. But "it may take months and years in order to eliminate what happened in Lahore in the last few weeks. It's a very long-term conflict."
The militants may be on the run in parts of Pakistan's tribal belt but they could still establish new strongholds and – if the government fails to stabilize reclaimed territories – return to old ones.
Bajaur illustrates that threat: The Pakistani military declared victory there a year ago, and set up local lashkars, only to have to return in force to flush out the Taliban again this year.
Countering that threat will require a near-total wiping out of the Taliban leadership, safe havens, and training camps, says Masood. And it will need a widespread rejection of the extremist mindset that the movement represents.
The Pakistani public, Masood worries, has not been prepared by political leaders to support such a long-term struggle.
Drones sow dissent among militants
In the meantime, the US has ramped up its assault from the air. The pace of drone attacks has quickened since Obama took office a year ago. In 2009 the US conducted 53 airstrikes over Pakistan; already this year it has fired 21.
The Taliban themselves admit they fear the drones not just as dealers of death but also of dissension.
"Drone attacks have created a rift in the Taliban ranks as people are suspecting each other of spying," says a member of a Taliban faction that split from the main group after death of Baitullah Mehsud, the founder of the Pakistan Taliban. The militant, who spoke on condition of anonymity, says that such suspicions have led to fratricide within the group.
A drone strike on Jan. 14 also killed Mr. Mehsud's successor, Hakimullah Mehsud, according to Pakistani officials and some tribal and Taliban sources, though top Taliban officials say he's still alive.
"We are also suffering losses, but mainly the drones are attacking the civilian population, says Mr. Azam, the Taliban spokesman, whose real name is Master Rais Khan.
A study this month from the New America Foundation estimates that 32 percent of drone victims over the past six years in Pakistan's tribal areas have been civilians. Critics in the US argue that by killing civilians drone attacks end up creating more enemies.
Support for the drones
Many in Pakistan also denounce the drones as a violation of national sovereignty and as a trigger for more suicide attacks. But anecdotal evidence suggests that the anger over the drones in safer parts of Pakistan may not be entirely shared with civilians in war-torn regions.
In Peshawar, a peace movement comprising six political parties, rights groups, business leaders, and a cross-section of society released on Feb. 18 a "Peshawar Declaration" expressing support for drone attacks.
"If the people of the war-affected areas are satisfied with any counter militancy strategy, it is the Drone attacks which they support the most. According to the people of Waziristan, Drones have never killed civilians," reads the declaration.
"A component of the Pakistani media, some retired generals, a few journalists/analysts, and pro-Taliban political parties never tire in their baseless propaganda against Drone attacks."