Help US prevent future Faisal Shahzads? Pakistan demurs.
The US is likely to further pressure on Pakistan to clear militant strongholds after Times Square bomb suspect Faisal Shahzad said he trained in one. But Pakistan has wavered on cracking down before.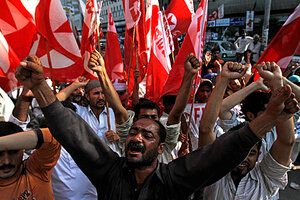 Shakil Adil/AP
New Delhi; and Lahore, Pakistan
Pressure, once again, is mounting on Pakistan to crush Islamist groups within its borders, but history as well as current ground realities suggest Islamabad's response will be selective.
For months, Washington has urged the Pakistani military to clear out North Waziristan, the largest tribal agency and the only one to have avoided major military operations. The alleged Times Square bomber, Faisal Shahzad, has apparently told US interrogators that he trained in Waziristan, upping the ante on Pakistan to act.
But three major factors put limits on Pakistan's cooperation: military resources, public opinion, and reluctance to attack certain militant groups.
"The strongest response from Pakistan will be facilitating and helping the American [investigation into] the terror plot. It will definitely not be interested in doing an operation in North Waziristan," says Abdul Basit, researcher at the Pakistan Institute for Peace Studies in Islamabad.
Pressure has been the buzzword in the US-Pakistani relationship at least since 2001, when Washington threatened Pakistan with enemy status if the country did not immediately U-turn from supporting the Taliban to fighting them. Pressure on the country spiked again following the 2005 London Tube attacks, the 2008 Mumbai massacre, and US recognition in 2009 that the Afghan war might be lost.
Narrow focus
The US extracted little military cooperation until the spring of 2009. The Army decided to mount a serious counterinsurgency offensive, pushing the Tehrik-e-Taliban out of Swat and Buner districts, then from South Waziristan and other tribal areas. Resistance to taking on the TTP evaporated after their string of devastating attacks against the Army, and video of a Taliban-administered flogging in Swat shocked the public.
Moves by the military since, however, have for the most part narrowly focused on the TTP, skirting confrontations with groups tied to jihad in Kashmir or cross-border fighting in Afghanistan.
North Waziristan is a key base for Taliban factions fighting in Afghanistan, including one headed by Jalaluddin Haqqani, once described by Pakistan's Army chief as an "asset."
Further, the military offensive against the TTP has left swaths of still-smoldering territory and displaced hundreds of thousands of residents. The military argues that its manpower is now tied up in trying to hold these lands and get them back under civilian control.
The recent reemergence of the TTP leader Hakimullah Mehsud – once believed to be dead – will focus attention on the TTP as Enemy No. 1, sapping support among the military and the public for opening new fronts in North Waziristan.
"We still see some soft corner in the heart of the military establishment for other militant groups. So it's at least likely that the Pakistani military at this time – after putting so much pressure against TTP – won't go after other groups and risk losing the ground they have made against the TTP," says Mr. Basit.
Knee-jerk denials
The US may not let Pakistan continue their narrow focus on TTP, however. Much may hinge on what groups – if any – Shahzad interacted with in Pakistan. If the TTP alone were involved, the push for a full-scale North Waziristan offensive would lessen.
Videos purportedly from the TTP initially claimed responsibility for the Times Square attack. A TTP spokesman now tells the Monitor that their group was not responsible.
Basit says the US levers of pressure now include putting conditions on – or even withholding – further financial assistance, or an intensification of drone attacks.
As for Pakistani assistance in the investigation, the extent of the help may hinge, again, on which groups are ultimately fingered.
The country's investigations into the Mumbai attacks have become a point of contention with India and the United States.
After reflexively denying any involvement in the Mumbai attacks and accusing India of "vilification," Pakistan, possibly bowing to
international pressure and responding to a dossier sent by Indian authorities, admitted that the lone surviving gunman, Mohammed Ajmal Amir Kasab, was indeed a Pakistani national.
It is widely believed that the Pakistani establishment initially sought to cover up Mr. Kasab's identity, having whisked away his immediate family in Faridkot following a media investigation.

When the trail led to Lashkar-e-Taiba – a militant group with historical ties to Pakistani intelligence – Pakistan took some action.
The group offices of its charitable arm, the Jamaat-ud-Dawa, were sealed, and its assets frozen. Its present leader, Hafiz Muhammad Saeed is under house arrest. LeT founder Zakiur Rehman Lakhvi and key operative key operative Zarar Shah are currently standing trial for abetting and planning the 2008 Mumbai terrorist attacks.
But some evidence suggests that the Pakistani establishment is not interested in dismantling the group entirely and prefers
 to let it lie dormant: Members of the banned outfit are still able to congregate and hold rallies where they raise extremist slogans.
Badar Alam, a senior editor at Pakistan's Herald magazine, finds certain commonalities between the blanket denials in the aftermath of
the Mumbai attacks and statements made by Pakistan's Interior minister Wednesday, to the effect that the government would investigate whether the New York City bombing was in fact a conspiracy against Pakistan.
"The rest of the world will never buy these knee-jerk denials. The first reaction should be considered and well-measured and calibrated
in a way that leaves room for further amendments, else you are left with egg on your face," says Mr. Alam, adding that the government often feels political pressure to pander to xenophobic elements.
Counterterror aid
In the case of the July 7, 2005, London Underground bombings, three of the attackers were of Pakistani origin. Islamabad released records showing that two of them spent almost four months in Pakistan, returning to Britain just a few months before the attacks.
Former President Pervez Musharraf said that Tanvir Hussain had spent time at a religious school linked to Islamic militants in Lahore, and he vowed to move against any group that may have helped him. But he also told the Associated Press that it would be "naive to believe" he was indoctrinated there. Rather, he suggested, the group's indoctrination may have stemmed from disillusionment in Britain.
As a result of the London attack, Pakistan today receives 28 percent of the British Foreign Office's budget on counterterrorism spending, or $12.5 million in the 2009-10 fiscal year. Much of this money is spent on training and counterintelligence.


Gauging the success of that money is difficult. A joint Pakistani-British operation foiled a plot to blow up US-bound 
airplanes in 2006. But in December 2008, British Prime Minister Gordon Brown pointed out that three-quarters of serious plots 
investigated in the United Kingdom were connected to the Pakistan.
Related: