Ambiguity surrounding Kyrgyzstan elections raises fresh concern of instability
The Kyrgyz government Wednesday approved a controversial vote recount, raising the specter of fresh instability in a country whose political system has been shattered by two violent revolutions in barely five years.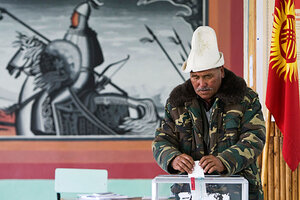 Shamil Zhumatov/Reuters
Last weekend's parliamentary elections in Kyrgyzstan have been widely hailed as the cleanest and most fair in the tiny Central Asian country's troubled history.
But the polls' fractured and inconclusive result, which led the government Wednesday to approve a controversial vote recount, raises the specter of fresh instability in a country whose political system has been shattered by two violent revolutions in barely five years and whose social peace has been deeply shaken by bloody ethnic riots that killed hundreds in the country's volatile south last June.
A pledge to overturn the constitutional order
Just five out of 29 parties in the running managed to garner enough votes to hurdle the 5 percent barrier needed for representation in the new 120-seat legislature, which is expected to form a government and appoint a prime minister according to a new "parliamentary" constitution devised by interim president Roza Otunbayeva and passed in a national referendum last June.
But three of those 5 parties are in sharp opposition to Ms. Otunbayeva's interim government which, until the fractious parliamentary parties manage to cobble together a governing coalition – an uncertain prospect – is the only force capable of maintaining order in the country.
The election's front-runner, the southern-based Ata Zhurt party, is led by colleagues President Kurmanbek Bakiyev, ousted in a street revolt last April, who have pledged to overturn the new constitutional order and have dropped hints about bringing back Mr. Bakiyev from exile in Belarus.
"The situation is very unpredictable," says Alexander Kulinsky, press spokesman for the pro-government Ata-Meken Socialist party, which squeaked into parliament with 5.6 percent of the vote. "We've been talking about trying to form a coalition for the past two days, and the parties seem unable to come to any agreement."
The election result may appear more fair than it actually was
An even more immediate threat stems from the fact that none of the winning parties gained more than 9 percent popular support, and almost a third of ballots cast by Kyrgyz voters were given to parties that failed to make the 5 percent cut. On Wednesday Ms. Otunbayeva agreed to hold a recount of the votes after two losing parties challenged the official results and supporters of one, the small Batun-Kyrgyzstan party, briefly blocked the Bishkek-Osh highway – which runs across a high mountain pass and is the only artery that links the relatively prosperous north with the ethnically-diverse and impoverished south.
Though the election result was certified as free and fair by the 240-person monitoring team from the Organization for Security and Cooperation in Europe, and praised by US President Obama as showing "positive attributes of a genuine democracy," some experts now worry that the recounting could undermine that perception and deepen the credibility problems faced by the incoming parliament.
"There were many cases of falsifications, improper polling station reports, far more than the allowable number of spoiled ballots, and other serious violations," says Asiya Sasykbayeva, director of Interbilim an independent Bishkek-based NGO that works to build civil society institutions. "The recount has to take place, and we can only hope that it goes calmly."
Mr. Kulinsky agrees that revisiting the vote count will probably reveal flaws overlooked in the first flush of enthusiasm over the election. "The problem is that when we compare polling station reports with official data, we find several cases where the numbers differ," he says. "We've only been able to do this for two regions so far, but we've found sufficient reasons to doubt the rest of the figures."
Shaky ground
A major concern is that Otunbayeva's government, which rests on shaky legal foundations, may lack the authority to maintain order should the recount reveal major discrepancies, or even if the parliamentary coalition-building process drags on.
"The thing is, the interim government doesn't exist anymore. It was disbanded," after the new Constitution was adopted last June, explains Sanobar Shermatova, a Kyrgyzstan expert with the official Russian RIA-Novosti news agency. "The interim government was itself of doubtful legality, since it was established in the midst of a revolution, in which the revolutionaries dissolved the existing parliament and government."
Until a parliamentary coalition is formed, she says, the only functioning authority is Roza Otunbayeva, who keeps her job as interim president – under a law written by the revolutionary interim government – until the end of 2011. "It's all outside the law," she says. "There was a revolution, so how could it be otherwise?"
According to projections by Kyrgyzstan's Central Electoral Commission, the nationalist Ata-Zhurt party is likely to take 29 seats in the new parliament; the progovernment Social Democrats will get 26; the oppositionist and pro-Russia Ar-Namys party will get 23; the opposition and pro-business Respublika will take 23; and the pro-government Ata-Meken will take 19. A successful coalition would have to have 61 reliable seats, and experts have been banging their heads all week to come up with a scenario for a coalition that might backstop Otunbayeva's struggling interim presidency.
"It might take a year to form a working coalition, and the possible combinations are many," says Mars Sariyev, an analyst with the independent Institute of Social Policy in Bishkek. "You have to wonder whether this parliament can be effective at all. If not, we may be looking at another crisis in a year or so, followed by a new round of elections... Fortunately, the present situation isn't the worst imaginable. At least all the really big players are in parliament."
The Kremlin has been vocally dubious that anything but a Russian-style strong presidency could succeed in Kyrgyzstan's undeveloped and fractious political culture.
Russian Foreign Minister Sergei Lavrov said Wednesday that Moscow is ready to work constructively with any new Kyrgyz government, but added the Russian concern that "an abrupt shift to a parliamentary model can create difficulties."