Five reasons the US went after 'merchant of death' Viktor Bout
Accused Russian arms trader Viktor Bout is to appear in court in New York on Wednesday. The previous day, he was extradited from Thailand, where he was arrested in 2008 and from where he fought an unsuccessful two-year legal battle against being turned over to US custody. He has always denied supplying weapons to armed groups and governments. For many years, he ran a legitimate air-cargo business that was accused by the United Nations of flouting sanctions in Africa and the Middle East. In recent years, he has lived in Moscow and rarely traveled outside Russia.
He has been indicted for conspiring to sell weapons to a terrorist organization and of conspiring to kill US nationals. He has denied the charges.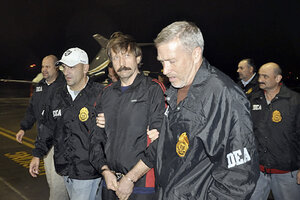 Drug Enforcement Administration/AP
1.

It sends a message

The arrest and extradition of Bout serves as a warning to other arms traffickers and underscores the global reach of the world's military superpower. This may deter some traffickers and drive up prices, though the opposite may also be true: removing Bout could be good for business. The US government, and its European allies, took their eye off Bout after 9/11. Some law-enforcement officials thought this was a mistake. Now they have their man.