Ukraine vote: Yanukovich wins first round in shift back toward Russia
Exit polls show that Ukrainian voters have dealt a stinging rebuke to the Orange Revolution's main hero, the incumbent Viktor Yushchenko, who is seen as failing to deliver on promises to fight corruptio or revive Ukraine's economy.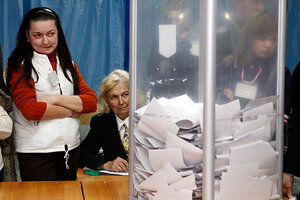 Gleb Garanich/Reuters
Amid snowstorms and deep political uncertaintly, Ukrainians went to the polls Sunday to elect their first new president since 2004's pro-democracy Orange Revolution thrust the post-Soviet nation of 46-million onto the path of integration with the West.
Hundreds of international observers were on hand to monitor the voting which went on, for the most part peacefully, at some 33,000 polling stations across the politically-divided, France-sized nation that includes heavily-Russified eastern provinces that were part of Russia for 300 years and nationalist, Ukrainian-speaking western regions that were forced into the Soviet Union just 70 years ago.
Early exit polls suggested that Ukrainian voters have dealt a stinging rebuke to the Orange Revolution's main hero, the incumbent Viktor Yushchenko, who is seen as failing to deliver on promises to fight corruption, tame the country's stifling bureaucracy or attract foreign investment to revive Ukraine's sagging economy.
According to two exit polls released just after the voting, Mr. Yushchenko won between six and ten percent of the votes, which, experts say, spells at least a temporary end to the pro-Western policies he championed, including a fast-track to membership in the NATO alliance and movement to integrate Ukraine with the European Union.
Leading in the polls, with between 31 and 36 percent was Viktor Yanukovych, the villain of the Orange Revolution who was accused of rigging the 2004 presidential election at the Kremlin's behest.
In second place with between 25 and 27 percent, according to the polls, is Prime Minister Yulia Tymoshenko, a fiery populist who wears a halo of Ukrainian peasant braids and is known to mesmerize crowds with her stirring oratory.
Ukraine's Constitution requires a presidential candidate to win more than 50 percent of the votes and, therefore, Mr. Yanukovych and Ms. Tymoshenko will face each other in a runoff slated for Feb. 7.
In televised remarks after the voting, Mr. Yanukovych cheered the apparent demise of the Orange Revolution.
"Today marks the end of Orange power," he said. "There will be no room for [Yushchenko] in the second round. He has officially lost the faith of the people."
Both winning candidates appear acceptable to the Kremlin.
Yanukovych, a scion of Russian-speaking eastern Ukraine who's backed by big industrial oligarchs, would ease relations with Russia, give the Russian language – which is spoken by 1 in 3 Ukrainians – official status, but has also vowed to continue moving Ukraine toward eventual membership in the EU.
Tymoshenko, a wealthy businesswoman, is more acceptable to Ukrainian nationalists, but in a series of private meetings with Russian Prime Minister Vladimir Putin last year, she settled Ukraine's differences with Moscow over energy supplies and, many experts say, also privately agreed to take Ukraine's bid for NATO membership off the table if elected.
The battle between Yanukovych and Tymoshenko over the next three weeks is likely to be intense as they jostle for the allegiance of swing voters in central Ukraine,
where the key issues are not language or NATO membership but Ukraine's plummeting economy, which has seen unemployment rocket to 20 percent, gross domestic product plunge by 15 percent, and the value of the Ukrainian hyrvna cut in half over the past year.