Lance Armstrong's Tour de France team forced to remove 'Livestrong' jerseys
Lance Armstrong's Tour de France team delayed the start of the final stage of racing today after they were forced to remove their black 'Livestrong' jerseys and revert to the official jerseys they had been wearing.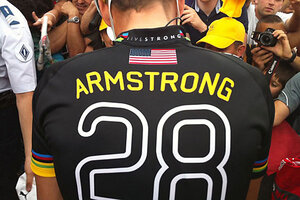 Graham Watson/Courtesy of Team RadioShack
While many who completed the 2010 Tour de France will compete next year, Lance Armstrong will not. He's made it clear over the past few weeks that this is his last Tour de France.
While Mr. Armstrong's been trying to avoid the attention of federal investigators, who are exploring his alleged connections to doping, he couldn't help attracting the spotlight in his final ride.
Armstrong's RadioShack squad, which won the Tour's overall team title, wore special black jerseys with the number "28" on the back at the stage's start in Longjumeau.
STORY: Can Lance Armstrong keep his Teflon image?
"Wearing new jerseys today," Armstrong tweeted before the stage. "Riding in honor of the 28 million people worldwide dealing with cancer."
The Tour organizers hadn't approved the wardrobe change, however.
They stopped the team – and the race – in the first few miles and warned RadioShack that if they didn't change back into their original kits, they would be disqualified.
They complied and the race continued.
The 38-year old Armstrong finished the Tour in 23rd place, 39 minutes and 20 seconds behind Contador.
STORY: Can Lance Armstrong keep his Teflon image?
Related: