Cyber attack tops Britain's list of defense priorities
Britain's strategy for national security, released today, tips resources toward new threats like a cyber attack. The shifting priorities come on the eve of a review that will outline cuts to the defense budget.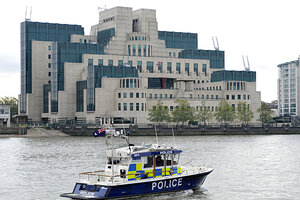 Lennart Preiss/AP
A cyber attack capable of devastating Britain's economy and infrastructure was elevated to the very top of a list of threats facing the UK today in a long awaited strategy for national security. It was published on the eve of what are expected to be stringent cuts to the defense budget.

Natural hazards such as pandemic flu and the persistent shadow of Irish Republican and international terrorism were also listed in the top tier of risks in a long-awaited strategy paper, along with an international military crisis involving unnamed countries, but assumed to refer to a war involving Iran, Israel, and the United States.

However, the elevation of the threat posed by hackers acting on the orders of a hostile state or terrorist group into the same bracket of dangers was greeted as a marker of shifting priorities in a changing world and in an age of austerity.

"The size and range of cyber threats has increased a lot in the last two to three years," says Malcolm Chalmers of Britain's Royal United Services (RUSI) defense think tank.

"But it's also about setting the government up for announcing increased money for cyber [defense]," Professor Chalmers says. "One thing that the government is anxious about in this spending review process is that the whole focus will be on cuts, and they will want to give a sense of increasing spending in some areas, alongside some reductions in others."
'Traditional' areas take a hit
While more "traditional" aspects of defense – such as spending on tanks and fighter jets – will be hit, a further £500m is to be diverted into bolstering cyber security for key infrastructure and defense assets, while counterterrorism will also benefit from increased funding.

Britain's dire financial straits form the broader backdrop to Tuesday's Strategic Defense and Security Review, which will detail areas of cuts to achieve up to 8 percent savings.

On Wednesday, overall spending cuts will be unveiled. Government ministries are likely to see budgets reduced by up to 25 percent over four years — Britain's greatest such austerity drive since World War II.

In the run-up to this juncture, the debate within government and Britain's armed services about what share of the pain should be shared by the military became increasingly bitter.

It was only finally settled on Friday after a personal intervention by Prime Minister David Cameron, who ordered Britain's Treasury to soften cuts aimed at the armed forces – leaving civilian sectors to shoulder a greater burden.

Mr. Cameron and his deputy, Nick Clegg, sought to underline the complexity of Britain's security and defense needs in a foreword to today's National Security Strategy.

"We are entering an age of uncertainty," they warn. "This strategy is about gearing Britain up for this new age ... weighing up the threats we face and preparing to deal with them."

The government added that the strategy specified, for the first time, the gravest threats to the UK's security.

After the "tier one" threats – which included terrorism and the UK being sucked into a conflict between countries like Iran and the US – "tier two" scenarios included an attack on the UK using weapons of mass destruction and a significant rise in organized crime.

Less likely dangers, ranked in "tier three," included a conventional large-scale attack on Britain, as well as disruption to energy supplies.

However, the rushed nature of the review – it was prepared in six months – and the impact of the drive for austerity concerned many.

Bernard Jenkin, an MP in David Cameron's own Conservative Party and the chairman of an influential parliamentary spending watchdog, told the BBC that it was difficult to see how an effective National Security Strategy could be developed against the backdrop of cuts.

"We seem to be operating under the imperative of deficit reduction," he said. "But, there's very little in what's being done now that reflects deep and sustained analysis about what sort of country we want to be in 10 or 20 years' time."