Why Italy's trash wars are still smoldering
Italy's garbage woes are resurfacing as one town near historic Pompeii protests a new trash dump and rubbish piles return to Naples.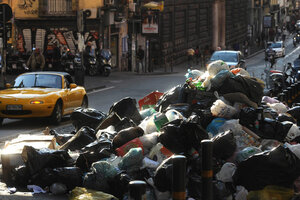 Ciro Fusco/EPA/Newscom
The fall breeze in this town, just a few miles from the historic ruins of Pompeii and Herculaneum, carries a strong and unpleasant smell – rotting trash.
The stench has become the norm for the people of Boscoreale, a town about 15 miles from Naples and in the shadows of Mt. Vesuvius, as they live just feet from a massive landfill built just two years ago. But a proposal to add another dump here to cope with Italy's ongoing trash woes is causing something of a revolt.
Together with the nearby towns of Terzigno and Boscotrecase, people here have staged a mock funeral for their towns, while other, more violent protesters have been clashing with police and blocking the way to the dump for a month now, and have even set some garbage trucks on fire. Earlier this week, 200 policemen with 40 armored vehicles tried to clear the way to the dump. The clashes were so violent that Prime Minister Silvio Berlusconi announced a special meeting later this week to handle the problem.
This is not simple a NIMBY – not in my backyard – phenomenon. Landfills in the region have been often used by the local mafia, the Camorra, for illegal dumping, and locals say health problems have worsened in the past two years.
The problem is that garbage disposal is such a delicate issue here that any minimal disruption has immediate effects. As protests go ahead in Boscoreale and Terzigno, streets in downtown Naples and the rest of the region are once again overflowing with trash – a clear sign that Italy has yet to solve its rubbish problems since its national garbage fiasco two years ago.
Italy's ongoing trash woes
Boscoreale's first landfill opened here in 2008 in the middle of Italy's waste removal emergency, It was meant to be a temporary measure to rid the Campania region of 250,000 tons of uncollected trash. The dump's location within Mt. Vesuvius National Park – a protected and fertile area famous for its fruit and wine production – was overlooked because of the dramatic nature of the emergency the region was facing.
Two years later, not only is the current dump fully functional, with no signs of shutting down, but the local government is trying to open up another dump nearby.
"If this dump opens up, we would have to declare the Vesuvius National Park dead," says Gennaro Langella, the mayor of Boscoreale who last month went on hunger strike for a few days to bring attention to the issue.
"On the one hand, there are really clear laws to defend nature here. For example, we can't put up fences in this town to leave space for ferrets to go around freely," he says. "But then it makes no sense if the government can come here and cover up the place in trash."
Italy first declared a state of emergency for its waste in Naples and the Campania region in 1994. Since then, government-appointed trash commissioners have come and gone trying to make recycling a top priority for local governments, while pushing for the creation of incinerators and reducing the use of dumps.
But year after year, the Camorra, which often benefits from the country's trash problems because it manages many of the temporary dumps and rents street sweepers at high costs during times of emergency, has successfully hindered many of the projects to address Italy's longer term waste problem. What's more, many local communities have blocked trash incinerators due to health concerns. So, periodically, local councils are left with nowhere to put trash when temporary dumps fill up and close.
After his latest electoral victory in 2008, Prime Minister Berlusconi promised he would clear the streets of this southern Italian city. He deployed the Army and militarized the dumps, making sure that nobody could interfere with them, and overnight, trash disappeared from the streets.
"We are convinced this will bring new life to Naples," Mr. Berlusconi said then. "The dream would be to see Naples blossom again."
The trash returns
After opening one incinerator in March 2009 and promising the construction of more, the emergency was officially declared over by the government last December. The responsibility fell onto government at a provincial level. Overnight, the province of Naples, the most densely populated in Italy with 3 million inhabitants, was told that it had to take care of its waste at a provincial level, and not a regional level.
But with only one incinerator in the province barely managing to process the waste of Naples alone, the trash is now back. Disruption by protesters in Terzigno and Boscoreale has further slowed down the collection.
Although the citizens of Boscoreale had been assured that their site would not be used again because it was in a national park (a visit by the European Parliament's environment committee earlier this year had backed the locals), all eyes have fallen on the spacious quarry that lies just next to the functioning dump.
Sitting on the slopes of Mt. Vesuvius, an active volcano that has erupted various times over the centuries – most famously in 79 AD when it covered completely the towns of Pompeii and Herculaneum – the quarry is used to extract volcanic sand for construction material. But it also has another important function.
Historical quarry
"The quarry recounts the history of this territory, it is a photograph of what has happened over the years," says Giosuè Fattorusso, former president of a committee to protect the Vesuvius lava stone, pointing at the different layers of stratified lava during a visit to the site. "Covering it up would mean to cover up history."
According to Umberto Arena, a professor of chemical engineering and newly appointed head of Caserta Province's environmental commission, the trash emergency was never over.
"Emergencies can only be solved with hard work, not with words," he says. "The situation will become dramatic in February again; we must do something."
Mr. Arena says not enough has been done in the past two years to fix the problem in the long term. He believes the situation will come to a head in four months, when the existing dump is expected to fill up. Even if a new dump were to be opened in Boscoreale, it would only ease the situation for another year or two and at a great environmental cost.
While local and national politicians blame each other for the events, the question remains as to whether this latest trash disaster will have an impact on Berlusconi, whose majority in parliament just barely survived a confidence vote on Sept. 29.
Only time will tell, said Roberto Saviano, the famous Neapolitan author who's been under police protection since 2006 for having written the book "Gomorrah," a fierce critique of the Camorra crime family. In a recent article, Mr. Saviano said Naples could be used as a barometer to take the pulse of the entire country.
"The trash that is back on the streets of Naples signs off on the failure of a project, of a path, of a policy," wrote Saviano. "Let's hope that these truths ... can start a process of change that could really change the destiny of the country."