Billionaire as Russia's president? The 5 richest men in Russia.
Mikhail Prokhorov, one of Russia's richest men – and the owner of the New Jersey Nets basketball team – has announced that he will challenge Vladimir Putin in the March 2012 presidential elections. His move to throw his hat in the ring has thrown the spotlight once again on Russia's billionaires.
A record number of billionaires now call Russia home – 114 of them, according to an annual list of the 500 richest Russians published in February by the Moscow-based Finans magazine. The number of billionaires is up from a mere 77 in 2009. To make this year's list, a Russian tycoon had to be worth at least $160 million. The assets of the top 10 grew last year by a whopping 30 percent to a combined worth of $182 billion. The bonanza has yet to reach Russia's struggling middle class; average incomes rose a paltry 4 percent last year, according to the state statistics agency Rostat.
To be a former associate of Prime Minister Vladimir Putin helps, apparently. According to the magazine, Arkady Rotenberg, who did judo training with a teenaged Mr. Putin, jumped 17 places to become Russia's 63rd richest person, worth $1.75 billion. Two neighbors from Putin's summer home community near St. Petersburg also shot through the ranks this year to become the 115th and 184th richest persons. Here are the top five: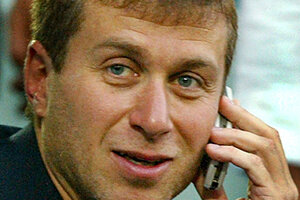 Alessandro Bianchi/Reuters
5.

Roman Abramovich – $17.1 billion

Owner of Britain's Chelsea soccer team and probably Russia's best-known oligarch, Mr. Abramovich's fortune originated – like that of virtually all other top Russian tycoons – in murky wheeling and dealing during the corrupt Kremlin-run privatizations of the 1990's. Along with his former partner, Boris Berezovsky, Abramovich acquired a major stake in the state oil firm Sibneft for a fraction of its real worth. After Putin came to power, Abramovich was accused of tax evasion and other crimes and for a while it looked like he might share the fate of Mikhail Khodorkovsky and wind up in prison. But Abramovich appears to have made his amends with the Kremlin – he served for eight years as governor of the remote Siberian province of Chukotka, investing more than $1 billion of his own money in social improvements. He now spends most of his time in London, where he is reportedly building a $250 million home in the exclusive district of Belgravia. Last time the rankings were published, Abramovich was No. 3.