Wimbledon 101: What you need to know
Wimbledon's fortnight is underway, and already two storied players are out: Venus Williams, a five-time singles champion, and fellow American John Isner, who won the longest match in tennis history – an 11-hour marathon – while playing at the Big W two years ago. Early-round tremors aside, the main story lines seem secure for now.
On the men's side, many tennis watchers expect Spain's Rafael Nadal and Serbia's Novak Djokovic to meet in a rematch of last year's final, which Djokovic won. One or the other player has prevailed at the last nine Grand Slam tournaments, and they've squared off in the last four Slam finals, including on June 10 at the French Open, when Nadal won. As dominant as they've been, Switzerland's Roger Federer is determined to break his 2-1/2-year drought in the majors and win a record-tying seventh Wimbledon title.
On the women's side, Russia's Maria Sharapova, the 2004 Wimbledon champion and a finalist last year, is top-seeded and on a roll as the newly crowned French Open winner. Petra Kvitova of the Czech Republic, however, is the defending champion. Also lurking in the field is sixth-seeded Serena Williams, a four-time Wimbledon champion.
Here are some Wimbledon background facts: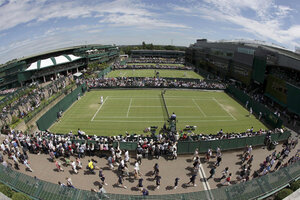 Stefan Wermuth/REUTERS
Television coverage

For the first time, ESPN is the exclusive US home for televised Wimbledon coverage, including the "Breakfast at Wimbledon" pre-match shows.