Chechnya: How a remote Russian republic became linked with terrorism
The main suspects in the Boston Marathon bombing are said to be two brothers from Chechnya, a mountainous and mainly Muslim republic in southern Russia that has been the scene of cyclical revolts and brutal crackdowns by Moscow's forces for the past 200 years. Though Dzhokhar and Tamerlan Tsarnaev have spent most of their lives outside of Chechnya, their postings on YouTube and the Russian-language VKontakte social media site illustrate a proud attachment to their ancestral homeland and offer many hints that both identified closely with Chechnya's defiant and fiercely independent mountain warrior traditions.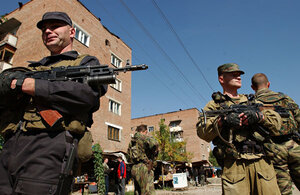 Scott Peterson/Getty Images/File
Where is Chechnya?

Chechnya is one of eight mainly Muslim ethnic republics that sprawl across the northern face of the Caucasus Mountains – which contain some of Europe's highest peaks – between the Black and Caspian Seas. The region is a patchwork of separate nationalities, speaking wildly different tongues, who have a history of intense animosity between each other that's eclipsed only by their historic tensions with Russia.

The approximately 1.2 million Chechens, whose republic occupies about 6,600 square miles in the center of the chain, are a fierce mountain people who speak Noxchi Mott, a language that's incomprehensible to most of their neighbors – but which was one of the three languages, along with Russian and English, that the younger Tsarnaev claimed to speak fluently on his VKontakte page.