Royal baby born: The next five royals in line for the throne
Kate Middleton, the Duchess of Cambridge, has given birth to a baby boy, Britain's newest member of its royal family.
But that also means there will be a bump in the line of royal succession. Who does the baby displace? And who is ahead of the future prince or princess?
Here are the next five royals in line for the British monarchy.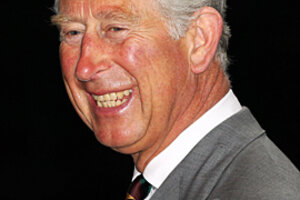 Lynne Cameron/AP
1.

Charles, Prince of Wales

Charles is Queen Elizabeth II's eldest son and the heir apparent. He has occupied that position since 1952, the year of his mother's coronation. Like most British heirs, Charles has the title of Prince of Wales, although he is also known as Duke of Rothesay and the Duke of Cornwall. Charles has waited longer than any other heir to assume the throne. If and when he does, however, his wife Camilla will not be queen, largely because of involvement with Charles while he was married to the popular late Princess Diana. She will rather be called the princess consort.