Decades on, some Poles still yearn for lands – and songs – of lost 'Kresy'
Keeping history alive
During World War II, thousands were driven out of their homes in Polish lands that are now Ukraine, Belarus, and Lithuania. But they, and their descendants, still sing of what was lost.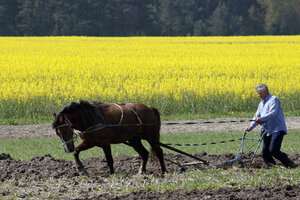 Gleb Garanich/Reuters/File
Agnieszka Wątróbska, a teacher who sings in a band in her free time, has often thought about leaving the place where she grew up.
But the folk songs of the "Kresy" that she croons with her band "Ta Joj" keep her in this pretty Polish town on the border with Ukraine.
Kresy, or eastern borderlands in Polish, refers to parts of present-day Ukraine, Lithuania, and Belarus that once belonged to Poland. But it is far more than a technical term. The word conjures loss and trauma for the families forcibly displaced from the area, deep and sometimes still raging resentments, and a nostalgia – real and sometimes imagined – for a place of peaceful co-existence before the homogeneity enforced in post-World War II settlements.
The former residents of the lands were mostly sent by the Soviet Union to western Poland, in what was formerly German territory. But they weren't allowed to refer to now-Ukrainian Lviv, where so many of them came, as a former Polish city – or the deportations at all, for that matter.
But they kept their music, European folk songs typically backed by an accordion and stringed instruments like guitars or basses. Some of the music was modified to meet the Soviet and Polish communist rules – the lyrics of the very popular song of the Kresy called "Only in Lviv" became "Only in Przemyśl."
With Poland's transition to democracy, a current of writing, literature, photography, and song was unleashed and communities and associations sprang to life. But now, as the ranks of those who remember the Kresy dwindle, the music they've passed on is threatened as well – and with this passage of time a sense of responsibility in Poland to keep the genre alive has grown.
For Ms. Wątróbska – whose band Ta Joj, which means "don't whine" in the urban dialect of Lviv called "Balak" – her purpose is clear. "Sometimes I do really feel exhausted, Przemyśl is a dying city, people are running away from here. Sometimes I would like to do the same and leave everything behind, but the band makes me stay," she says. "I'm afraid this music will die out over time."
Aging connections
In 2012, the Center for Public Opinion Research carried out a survey asking Poles about their ties to the Kresy. Nearly 15 percent of the population said they either were born in the Kresy, or have a parent or a grandparent who comes from the region.
Still, Stanisław Łukasiewicz, president of Association of Lovers of Lviv and Southeastern Kresy in Poznań, says that at age 74 he feels like the teenager of the group. He's one of the youngest.
The man who created Ta Joj, Kazimierz Galikowski, died in 2002 at age 89. At 43, Wątróbska was long the youngest member of the band, before a 20-something joined last year, a small sign of hope.
New interest
Olga Linkiewicz, an assistant professor at the Institute of History of the Polish Academy of Sciences, says that the gatherings of the communities of the Kresy have dwindled with a declining population.
But in another sense the history has been fortified, she says. "From the younger generation what you see now is there are some with roots in the territory, and others who do not belong in any literal sense, who are just interested in it," she says.
There are new Facebook pages or popular exhibitions being mounted that explore everything from the way of life to the massacres of Poles or forced deportations to Siberia and other parts of the Soviet Union that occurred in the 20th century.
Some of the renewed interest has been appropriated by the far-right and taken on a nationalist tone, but most Poles are simply interested in being part of the nation's collective memory, says Ms. Linkiewicz.
Wątróbska's grandparents were from a village near Lviv. Unlike most of those forced out who ended up in the west, they moved to Przemyśl near the border because they believed it was only temporary and soon they would return home. They never did. 
She says the songs for her are driven by a longing rooted deeply inside her. "I sing about the city my grandparents and parents lost forever," she says. But the music is lively and often the lyrics show an irreverent sense of humor of the times.
Łukasiewicz always keeps a cassette with Kresy songs in it in his car. "For me these song are very happy, they remind me of happy days," he says. "Every time when I have a bad day I listen to them, and all sorrows go away."