Kosovo's attempt to help wartime rape survivors reopens old wounds
Kosovo has done little to help the victims of sexual violence during its 1998-99 conflict, but with new legislation that is changing. However, the effort to provide recognition and restitution to survivors is marred by deep problems.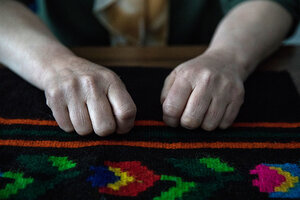 Valerie Plesch/Special to the Christian Science Monitor
In the nearly two decades since she was raped by Serbian forces during the conflict in Kosovo, Drita kept the crime she suffered a closely guarded secret.
Her husband knew, but he never spoke of it. She registered with a center dedicated to helping victims like her recover, but then stopped going for a time for fear her relatives would see her there and learn the truth. Her family settled in another town, trying to leave the painful past behind.
In February, when Kosovo's government began recognizing victims of wartime rape, entitling them to compensation, Drita hesitated to apply. But the €230 ($275) a month would help with medical bills, and more importantly, it would be recognition of her years of suffering. The government promised she could apply confidentially. So with the help of the Center for the Promotion of Women's Rights in Drenas, she completed a grueling application that required her to recount the details of the rape.
Soon after she submitted it in March, the commission in charge of the verification process requested she come for an in-person interview. Drita traveled to the capital, Pristina, where the commission's office is located on a street full of busy cafes. The building is home to a hodgepodge of government offices, and people mill about in the lobby.
As she ascended the stairs to the commission's office, the past she had worked so long to hide finally caught up with her: She ran into a relative.
That was all it took to dismantle her world.
The relative told Drita's daughter-in-law, who told her younger son. The couple, who had been living with Drita and her husband, moved out of the house. "If you had told me earlier, I never would have married your son," her daughter-in-law told her. Drita's husband, who had previously been supportive, became angry and aggressive. "I protected you until now, but now everyone knows," he told her. He kicked her out of their home. She now stays with her sister, where she's wearing out her welcome, but she has nowhere else to go.
The commission recently approved Drita's application, verifying her as a war victim. But that's little comfort now.
"That day I wanted to commit suicide. She destroyed my family completely," she said of the relative who spotted her at the commission's office. Her cheeks flushed as she recalled the encounter. "If I knew this would happen, I would not apply again, even if the commission would give me all of Kosovo."
Kosovo's move to begin compensating victims of sexual violence during the 1998-99 conflict is a deeply meaningful victory for the survivors and activists who fought for years for recognition and respect. A wave of applications in the first months of the process demonstrates progress in the battle against the social stigma faced by rape victims.
But the long-awaited success is also marred by problems. The eligibility requirements exclude some victims from applying, including from minority groups. Activists have concerns about applicants' anonymity, and say the commission overseeing the process is requesting unreasonable levels of documentation to prove two-decade-old war crimes. They also warn that in some cases the commission is rejecting applicants without explanation. And despite steps forward, social scorn is still a powerful force that could put the entire process at risk.
The value of recognition
During the conflict in Kosovo, Serbian forces used sexual violence as a weapon of war, raping thousands of people. After the territory unilaterally declared independence from Serbia, the Kosovo government provided war veterans and civilian war victims with a pension, healthcare, and other benefits. But rape survivors were made invisible, their suffering denied. Families blamed their mothers and daughters for being raped. Society ostracized and shamed them. Most victims hid what happened to them. Male survivors faced even worse stigma.
Activists spent years working to change that, and lobbying the government to recognize survivors of conflict-related sexual violence as civilian war victims. Atifete Jahjaga, Kosovo's first female president appointed in 2011, made the issue a central part of her work, and her position made her an effective advocate. In 2014, parliament passed a law giving war-victim status to survivors of conflict-related sexual violence. Yet it took nearly four years for the legislation to be implemented.
Since applications opened Feb. 5, 437 people have requested recognition, which may mean the total will eventually rise above the 1,000 that activists had estimated. Of those, 76 have so far been verified, and 60 rejected. Applications can be submitted directly to the commission, in government offices throughout the country, or through four nongovernmental organizations that work with victims. Those organizations report that they are struggling to keep up with demand.
At Medica Kosova in Gjakova, in western Kosovo, director Veprore Shehu says the interest in applications is exceeding her expectations. Women the organization has not worked with before are now coming and asking for help applying. It's an indication, she says, of the weight that official recognition carries in the battle against social stigma. "Once you recognize publicly somebody's suffering and wounds, especially if the state does that … somehow this feeling of shame and of blaming the women is reduced in a way."
Feride Rushiti, executive director of the Kosovo Rehabilitation Center for Victims of Torture (KRCT), says she can also see ripple effects of the public recognition. For the first time, she says, some survivors are accompanied to her office by their husbands. "We never ever saw this before," she says. "So in that perspective, I think there is progressive change in terms of community and family."
At the organization's office, Luljeta, who had just finished filling out her application, was exhausted. Aided by a KRCT psychologist, it had taken her all afternoon to recount the details of how she and her sister were raped by Serbian forces on her 22nd birthday. "It's so hard because you have to retell the story, and it sends you back to what happened again," she says. "It's almost the same as going through it again."
Luljeta's husband is the only person who knows she's applying, and he drove her to the KRCT office from their home about an hour away in eastern Kosovo. "If it wasn't for his support, I don't know where I'd be," she says softly. She doesn't see recognition as a triumph. But it is meaningful, she says. "The scars will never fade, but it makes it somehow a little easier to know that someone is supporting you."
Yet advocates worry that problems could derail the progress. One basic issue is with who is eligible to apply. Because the legislation recognizing victims of sexual violence is an amendment to a previous law on war veterans and wounded, only those who were raped during the time period of the war are eligible. But in the conflict's aftermath, members of the Kosovo Liberation Army engaged in revenge attacks, raping Kosovo Serb and other minority women as well as women from Kosovo's Albanian majority. Those victims cannot apply for recognition or receive compensation.
And though advocates have been encouraged by the number of applications lodged so far, Rushiti says a significant number were submitted directly to the commission without the help of the NGOs and lack the necessary detail. She's afraid that few victims who apply without the help of organizations will be successful.
Anonymity is another concern. The legislation lays out strict protocols for ensuring confidentiality of applicants, yet for in-person interviews, which are not required but sometimes requested by the commission, there is no protection from being recognized.
'If you can't sleep at night, it's all worthless'
But the most significant problem with the process itself, according to advocates, is that the commission is asking for unrealistic levels of documentation. There are various reasons why survivors may not have these records. Some never sought medical help. Others did receive medical care, but find that hospitals or doctors have no records of visits that took place decades ago amid a conflict. And women whose families aren't aware of their status might not be able to travel to search for records.
Ms. Shehu says one man who applied submitted evidence of his severe, permanent injuries from his rape by Serbian forces. The commission then requested he provide records from the hospital he said he visited after the violence, even though he cannot find them. "This is ridiculous," Shehu says.
The application, designed with input of civil society groups to avoid mistakes made in similar processes elsewhere, allows applicants to submit supporting documentation like medical or legal documents, but does not require it. The victim's testimony was intended to be the most important part of the application, says Rushiti, precisely because of the dearth of proof for crimes that happened so long ago and are subject to such a heavy stigma. "You cannot produce these documents if they are not in place, and you cannot deny the rights of a victim if she does not possess these documents," she says. 
Minire Begaj, the president of the commission, says that if applicants mention receiving medical care or talking to investigators in their testimony, then they should provide proof. "The victims should provide the facts and in this aspect, we require documents," she says. But "we consider and use other possibilities for the victim of the documentation is not provided," she adds.
She also says that victims should include documentation from the time of the crime, and that records of treatment in the years following the crime may not be enough, though advocates say many victims did not seek help or support until years after the rape.
Activists say the commission is also rejecting applications without requesting an in-person interview. Those rejected can appeal, but some refusals – of survivors whom advocates have supported for years – have left them astonished.
Afërdita has been coming to the center in Drenas since 2013. Recounting the violence she suffered for the application was "like dying for a second time," she says. During the war, she was raped alongside her sister, whose injuries left her unable to have children. She says relating the trauma was so difficult that she didn't go into extensive detail in the application.
Afërdita found out less than a month after applying that her application had been rejected. "All this suffering, and now look what they do to us," she says with bitterness. "I suffered enough during the war, and now I am suffering more." She has appealed the decision, but she is angry at the commission. "Let them do whatever they want, if I receive [the pension] it won't be a pleasure. If you can't sleep at night, even if they give you the whole world, it's all worthless."
Pressure to get it right
The commission is likely under pressure to avoid what happened when Kosovo verified war veterans: 46,000 claimed the status, a far higher number than is thought to have actually fought in the conflict. Activists suspect the commission is applying stringent standards in an effort to make sure this process is not tainted by fraud.
Yet the heavy stigma against rape victims means there is low incentive for false applications. Activists say the commission should do a better job of balancing the need for proof with the reality of the situation and the sensitivity required in dealing with survivors of sexual violence.
Rushiti is hopeful the situation will improve: participating NGOs recently held a meeting with the commission to express their concerns, and Rushiti says the commission was open to addressing them. She hopes to arrange a workshop in May for all parties to sit down and come up with a better approach.
"I think deep down they have fear ... that the process has to be dedicated to the rape survivors, and they just want to have as much evidence as possible in order to get the right decision," says Rushiti. "But you have to know that you are dealing with survivors, some of them for 18 years they never ever shared this with anyone, and it's not so easy to go there in the commission and disclose this for the first time."
• The names of the rape survivors were changed to protect their identities.