How 5 countries celebrate Eid al-Fitr and the end of Ramadan
Eid al-Fitr began at sunset Thursday, when the crescent of a new moon first showed over the Middle East. Eid is an Arabic word meaning "festivity," while Fitr means "break fasting." The three-day feast celebrates the end of the a month-long period of Ramadan's fasting and prayer. While traditions don't vary much between Sunnis and Shiites, customs vary greatly from country to country. Here is how five countries ring in Eid al-Fitr.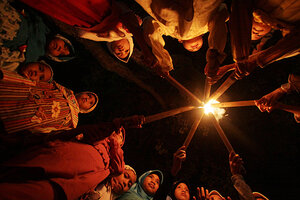 Andry Prasetyo/Reuters
Indonesia

Fashion is on full display in Indonesia this Eid al-Fitr. The country's Islamic fashion industry reported a spike in sales of about 20 to 30 percent as early as June as customers from Indonesia and neighboring Malaysia and Singapore purchased fabrics for the end-of-Ramadan celebrations.

"Arab women are glamorous. They love their bling," Islamic fashion designer Dian Pelangi told Agence France-Presse.

Indonesia is the world's most populous Muslim nation, and approximately 86.1 percent of the 230 million population practices Islam, according to the Central Intelligence Agency World Factbook.

But getting the chance to show off your new garb is another matter amid Indonesia's suffocating traffic, as millions of people from Jakarta alone were competing to leave the crammed capital to make it home to their families, reported Reuters.