The five most dangerous countries for journalists
The brutal beating of Russian journalist Oleg Kashin outside his apartment building Nov. 6 draws renewed attention to the dangers that reporters face in many countries – including death, violence, imprisonment, exile, and threats to their families.
The Committee to Protect Journalists tracks journalists' deaths, imprisonments, and other forms of intimidation. Deaths are classified as work-related if they are killed in a hostile action tied to their journalism work – caught in crossfire or retribution for their work, for example – and do not include those media members who worked alongside the journalists, nor those cases in which the motive for the killing is unconfirmed.
Below are some of the world's most dangerous countries in which to be a journalist, according to CPJ.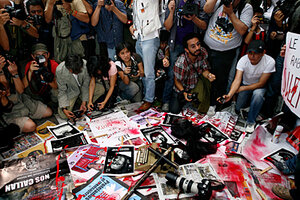 Marco Ugarte/AP/File
5.

Mexico

Mexico is becoming one of the most dangerous places for journalists to work because of the ongoing drug war between the Mexican authorities and drug traffickers. Some 22 journalists have been killed and dozens have disappeared, been kidnapped, or exiled since President Felipe Calderon took office in 2006 and declared war on the traffickers, according to a September 2010 report by the Committee to Protect Journalists.

In September, a photographer for the Mexican newspaper El Diario, based in Ciudad Juarez, was killed – the second staff member of the paper killed in two years. His death prompted the editor of the paper to write a plea to traffickers, published on the front page of the paper, asking them to tell him what they could do to avoid any repeats. Police have been unable or unwilling to investigate journalists' deaths and disappearances because of the influence and power of the drug traffickers.