The top words and phrases of 2010
The Global Language Monitor, a language analytics company based in Texas, tracks language trends around the world. One of its projects is an annual list of the year's most buzzed-about words, phrases, and people, which provides a good snapshot of what the world was thinking about in 2010. Click through below for the five most popular words and phrases of 2010.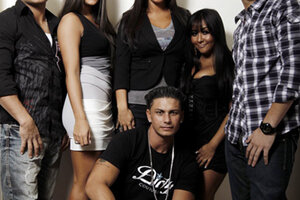 5.

Jersey Shore and the tea party

The greased-up stars of MTV's Jersey Shore went from being anonymous beach bunnies to getting shoutouts from Sen. John McCain on Twitter – on Monday, McCain wished Jersey Shore star Nicole Polizzi, better known by her nickname Snooki, a happy birthday.

The most lasting impact of the TV show may be the introduction of the words "guido" and "guidette" – often used to describe Snooki and her partying cohorts – into mainstream English and the No. 5 spot on the top words list.

Meanwhile, the tea party political movement bumped the phrase "tea party," previously associated with a colonial act of rebellion against the British, out of American history books, into the news cycle of the 2010 midterm elections – and onto the No. 5 spot on the top phrases list.