World AIDS Day 2010: Top signs of progress
In 2009, more than 33 million people worldwide were living with HIV. That's up from 26.2 million in 1999. Despite that staggering statistic, UNAIDS and other AIDS organizations are making progress in their efforts to control and eventually eradicate HIV/AIDS. World AIDS Day is a chance to take stock of how well these organizations are doing and where the world stands today.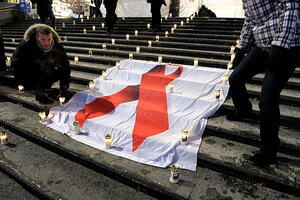 Janerik Henriksson/Scanpix/Reuters
A worldwide decline in infection rates

According to the 2010 report from UNAIDS, the United Nations' HIV/AIDS program, the overall HIV infection rate has declined almost 20 percent in 10 years – from 3.1 million new cases in 1999 to 2.6 million in 2009. That decrease follows decades of explosive growth in the number of HIV infections.

According to the Monitor's Africa Bureau Chief Scott Baldauf, much of that decline can be attributed to funding from donor nations – such as the US President's Emergency Plan for AIDS Relief (PEPFAR), which registered $6.8 billion in funding in 2010 – and private organizations. Much of that money goes toward education about prevention and prevention tools, such as teaching people about safe sex and making condoms more available.