Italy to China: four countries sidelining nuclear power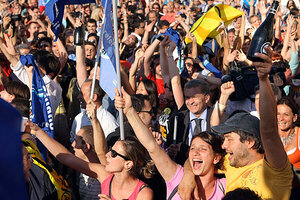 Roberto Monaldo/Lapresse/AP
Italy

Italians voted in a referendum vote yesterday to put a lid on nuclear power indefinitely, derailing one of Italian Prime Minister Silvio Berlusconi's efforts to restart nuclear energy in Italy. Nuclear energy was first abandoned in a 1987 referendum vote after the Chernobyl nuclear accident and Italy shuttered its four nuclear power plants soon after. The recent referendum vote extends a moratorium on nuclear plans that was imposed after Japan's nuclear crisis.

Berlusconi had hoped to relaunch the shelved nuclear program – one of the first in the world used for power supply only – by building several nuclear power plants. In 2009, he reached out to France for assistance with the construction of four new plants. The first one was slated for completion by 2020.

The country lacks many natural energy resources and imports 86 percent of its energy supply, according to the International Atomic Energy Agency. Berlusconi said Monday, as the results of the referendum became clear, that if Italy opted to abandon nuclear energy, it was going to need to make a stronger commitment to renewable energy.