Not just sexy Kim Jong-un: 5 times the Onion has fooled foreign media
When the People's Daily, the Chinese Communist Party's official newspaper, took as straight news The Onion's declaration that stout North Korean dictator Kim Jong-un was 2012's "Sexiest Man Alive," it became the biggest foreign media outlet to be fooled by the satirical American newspaper. But it is not the first. Here are several other foreign news sites that took Onion fiction as newsworthy fact.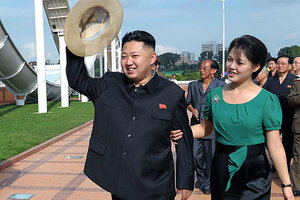 Korean Central News Agency via Korea News Service/AP
The People's Daily: Kim Jong-un as 'Sexiest Man Alive'

While North Korean leader Kim Jong-un has received a litany of titles (mostly from his own party and government), he has yet to be recognized by any Western media as a sex symbol. So one might think that when The Onion declared the "Pyongyang-bred heartthrob" its "Sexiest Man Alive" for 2012, readers would be suspicious of the article's seriousness. Certainly, the list of previous winners – including Syrian dictator Bashar al-Assad, convicted conman Bernie Madoff, and Unabomber Ted Kaczynski – suggested that the piece might be satirical.

But that conclusion appears not to have been reached in the offices of the People's Daily. The Chinese Communist Party mouthpiece treated the article as a straight-laced story and heralded The Onion's "honor" of the stout North Korean dictator, complete with a 55-page photo gallery of Mr. Kim, presumably to capitalize on his physical charms. The Internet was highly amused.

The Onion appreciated the Daily's efforts as well. Calling the Chinese paper its "proud Communist subsidiary," The Onion updated its original story to recommend that readers read the Daily's "exemplary reportage" on the Kim honor.

The People's Daily has since removed the story from its website.