World rankings: Top 10 universities in 2014
If there is a one city in the world that can claim to be the global capital of higher education, it's London, which has a staggering five of the world's top 100 universities within its city limits.
This according to popular ranking of the world's universities put out this week by Quacquarelli Symonds (QS), a British-based higher education consulting firm.
Overall, the United Kingdom has 19 universities in the top 100 on the company's World University Ranking, topped only by the United States, with 28.
Several prestigious Asian universities have been rising rapidly through the list in recent years, led by the National University of Singapore (#22). The top universities in South America — the Universidade de São Paulo — and Africa — the University of Cape Town — are trending upward as well, though neither has yet cracked the top 100.
In general, a ranking of global educational institutions is highly subjective, and must be taken with a large grain of salt, warns Simon Marginson, a professor of international higher education at the University of London and the co-editor-in-chief of the journal Higher Education. In particular, he notes, the QS ranking leans heavily on "global reputation," a murky metric determined by surveying a selection of academics from around the world about which universities in their field are the most reputable.
"No one in the higher education sector really believes that the QS ranking tells them anything about performance," Dr. Marginson says. "But they do know it's important in a marketing sense."
Still, the QS rankings remain closely watched by both universities and prospective students and lecturers around the world.
Here are this year's top 10 schools.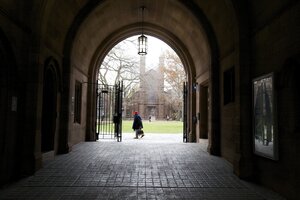 Michelle McLoughlin/File
#10: Yale University

Although not exactly hurting for prestige, Yale has been on the decline in the QS ranking for several years, sliding from third in 2010 to seventh in 2012 to 10th on the latest list. Never mind though, since it is still among the top five universities in the world for the study of English, history and archeology, law, languages, politics, and psychology. Not to mention, three of the past four US presidents — Bill Clinton and both George Bushes — received either undergraduate or graduate degrees at the New Haven, Conn., school.