Forced labor in Qatar: Workers dying as World Cup approaches
(Read article summary)
As Qatar forges ahead with its construction projects in preparation for hosting the 2022 World Cup, more attention is being paid to poor conditions that migrant laborers work under.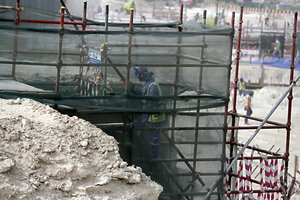 Maya Alleruzzo/FILE/AP
By the time the 2022 World Cup in Qatar kicks off with the first match on November 18, an estimated 4,000 migrant workers will have died building state-of-the-art soccer stadiums in the desert, according to a report from the International Trade Union Confederation.
Since the Persian Gulf state was awarded the world's most popular sporting event in 2010, more than 1,400 workers have died building World Cup facilities. The group PlayFairQatar.org says that for every match played in the World Cup, there will be an attached human cost of more than 62 workers. 
To put this in context, only two people died during the litany of construction projects that were undertaken in preparation for the 2012 Olympics in London, according to PlayFairQatar. 
Many of the construction workers building the stadiums are migrant workers from Nepal, but some also hail from India, Sri Lanka, and Bangladesh. A Guardian story from July 2014 highlighted the modern slavery conditions these workers find themselves in as Qatar ramps up its $200 billion construction boom in the run up to hosting the World Cup:
There are no showers. Instead men wash in broken and filthy squat toilet cubicles. The cisterns are not even connected to the water supply, bins overflow, the washing water is salty and the drinking water filter is only changed once in five months, workers say, causing stomach upsets. They can't afford medicine and their employer has not provided medical cards granting access to free care.
Working on outdoor projects like the soccer stadiums, laborers can see the temperature rise to 122 degrees and more than one worker a day succumbs to heatstroke. PlayFairQatar.org reports this amounts to more than forty workers dying every month.
90 percent of the migrant workers have had their workers' passports seized under a labor sponsorship program called kafala, the Guardian reported. They cannot leave Qatar without permission from their employer. 
Some workers have not been paid for months, and have no recourse to force their bosses to pay up. 
"We have questioned [the company] time and again. In the past two months, the company keeps on extending the date of providing salaries," 25-year-old Nepalese worker Ujjwal Bishwakarma told the Guardian. "They have extended the date four times so far. It is not good. Because the country is economically rich, the workers should be paid their fixed salaries. I am regretting coming to Qatar."
Qatar is the richest country in the world on a per capita basis, according to the CIA World Factbook. FIFA President Sepp Blatter said in November of 2013 that the working conditions of laborers there was "unacceptable." 
"I am convinced Qatar is taking the situation very seriously," Mr. Blatter said in a press conference at the time. "These very discussions about Qatar show what an important role football can play in generating publicity and thus bringing about change."
The international soccer body has resources to potentially help out the migrant workers. Forbes reported FIFA banked $2 billion in profits alone from the 2014 World Cup in Brazil. According to Al Jazeera, FIFA also has over $1 billion worth of reserve funds in banks.
But, for now, these workers are left wondering where to turn to next.
"We don't have any way to get justice," Sri Lankan builder Kamal Nathan, 46, told the Guardian. "Human rights groups came but still six months on there is no progress. It is a waste of our time, our health, our money."