Which cities are most at risk of a terror attack?
(Read article summary)
A global risk-analysis firm looked at which cities are most at risk of being targeted by terrorists – and which aren't.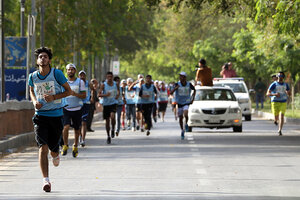 Hadi Mizban/AP
What is the likeliest place on earth for a terrorist attack?
Baghdad, according to a new report that has ranked world cities according to their attack risk. Over the last six years, Iraq's capital suffered a stunning 380 terrorist attacks which claimed 1,141 lives, making it the deadliest city in the world, by terror attacks, according to global risk analysis firm Verisk Maplecroft.
Verisk Maplecroft analyzed 1,300 of the world's urban centers and ranked them based on the intensity and frequency of attacks in the past six years. According to its findings, 64 cities around the world are at "extreme risk" of an attack, 27 of which are in the Middle East.
One country dominated the list: Iraq. Eight of the top 20 most targeted cities were in Iraq, including Mosul (No. 2) and Ramadi (No. 3), both of which are now controlled by Islamic State, or IS, known for its brutal killings and attacks. Ramadi fell to IS just last week.
Pakistan also ranked high on the list, with four of its cities in the top 20, including Peshawar (No. 7) and Quetta (No. 9). Cities in Afghanistan, Libya, Somalia, Nigeria, and Yemen rounded out the top 20 list.
Where do the US, and other western countries, land on the terror list? The results may be surprising – and comforting – for western audiences accustomed to around-the-clock coverage and warnings of terrorist attacks.
New York, the target of the 9/11 terror attacks, arguably one of the most brazen terror attacks in history, was deemed 369th most dangerous city in the world. In fact, two other, surprisingly unlikely, US cities, ranked above New York: Las Vegas, which was ranked 184 in the world, and Kansas City at 190. All three US cities were well out of the 'extreme risk' category.
That's because Verisk Maplecroft uses data from the past six years of attacks to calculate likelihood of future attacks. Despite a flurry of news articles about terror threats and regular warnings from law enforcement, the US has suffered relatively few terror attacks compared to other parts of the world.
Europe, in fact, is deadlier, according to the report. Three European cities are at extreme risk of attack, including Luhansk, Ukraine, ranked at 46; Donetsk, Ukraine, at 56; and Grozny, Russia at 54.
Paris skyrocketed up the list, thanks to the Charlie Hebdo terror attacks that left 17 dead in January. The French city soared from 201 before the attacks to 97.
Several global trends have left their mark on the terror risk list. While isolated events like the Charlie Hebdo attack affected rankings, the rise of extremist groups like IS, Boko Haram, and Al Shabab, landed a number of cities on the list. Some 14 African cities are now at increased risk of violence due to the political instability and violence wrought by the militant groups Boko Haram and Al Shabab.
While Africa saw many of its cities land on the terror risk list, South America was relatively absent. Only one city, Cali, Colombia, made the list's "extreme risk" ranking at 59.
Verisk Maplecroft says it released the list to help governments and organizations understand and protect against the risks in their countries and the countries in which they operate.
"[I]t is the risk posed by terrorism in the primary cities of strategic economies, such as Egypt, Israel, Kenya, Nigeria, and Pakistan that has the potential to threaten business and supply chain continuity," the firm said in a statement, with Principal Analyst Charlotte Ingham adding, "An estimated 80% of global GDP is generated from cities."