As curtain rises on Euro 2016, a turbulent time in France
(Read article summary)
Reporters on the Job
Floods, strikes, terrorist threats – France has no lack of worries as it gets set to host Europe's largest soccer tournament, which begins today.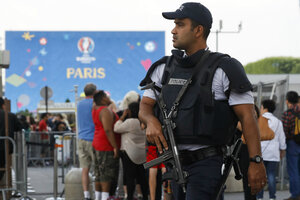 Gonzalo Fuentes/Reuters
When I was posted in Latin America, friends and family – inundated with news coverage of beheadings amid brutal drug wars – couldn't wait for us to move safely to Europe.
Now, amid fiery street demos and transport standstills, historic flooding and trash piling up because of strikes – not to mention the looming threat of a massive terrorist attack – one dear friend wrote an email: "I cannot believe you moved from Mexico City to Paris."
This sort of reputation is exactly what France is dreading, as the European Championship – the international soccer tournament second only to the World Cup – begins tonight.
I've replied back the same way I always do: "Things always appear a lot worse from far away."
There are myriad problems here, to be sure. "Welcome to France!" read the top story headline of the daily Le Parisien, a photo of hard-line strikers on the front cover. 
Indeed, the strikes continue. The trains that serve the Stade De France, where the first game kicks off at 9 p.m. local time, could be disrupted. Air France pilots are threatening to walk off the job tomorrow for four days. And the threat of terrorism remains – some 90,000 police and security guards around the country will be working extra to keep visitors and residents safe.
But I hopped on a Velib today – Paris's bike-sharing program and, incidentally, one of the lovelier things the city has to offer – and cycled 12 kilometers round-trip from home to the Eiffel Tower, where a giant fan zone has been set up. On the way I passed Paris's famed luxury stores, the opera, the Louvre and Tuileries, and rode home along the Seine – basically passing everywhere that visitors amass in Paris.
And indeed, it looks worse from afar.
Pulling off a perfect show amid the current challenges in Paris won't be easy. Last night, the fan zone in the shadow of the Eiffel Tower was all lights, show, and positive energy as the main entertainment preview to the Euro championship attracted 80,000. Today the fan zone's now empty patch of grass, fenced in and closed off, reminded me more of Las Vegas: the sheen came off in the morning sun.
With tight security at every corner, the Eiffel Tower itself actually was quieter than it is on most days. "I expected it to be a lot crazier," says Constantine Raoper, a Romanian construction worker living in Belgium who arrived to Paris today to watch his team take on France in the tournament's first game. "I feel safe though, because of all the police. It's good they are here."
The flood water along the banks of the Seine is starting to recede, after the rainiest May since 1886 forced the Louvre to close down last week so staff could relocate 250,000 pieces of art. A uniformed crew was picking up the garbage that has piled up at the river bank, and hosing down fetid trash bins left untouched by garbage workers since their unions joined the strikes.
Given the nature of the terrorism on Nov. 13 here, this was never going to be a party without a care. The government has created an emergency alert app to broadcast messages in the event of an attack. It has also banned sidewalk cafes from mounting giant screens where people can gather, arguably one of the most spontaneous and joyous ways of watching the games together, for fear of creating targets. 
Some have grumbled all year about France moving forward with this event, which will see 2.5 million spectators fanning across ten cities around the country, as a state of emergency remains in effect. The risks are high, they say. But so is the potential payoff. If France is able to pull off the month-long championship without a major hitch, it will restore its standing among those scared off, or driven away by exasperation.
The government is crossing its fingers. "France's pride is at stake," said France's environment minister, Segolene Royal. "Let's not harm France's capacity to organize global events."