Greece default: Greek PM agrees to step down – under certain conditions. how about that?
Officials scrambled to avoid a Greece default Sunday by hashing out an agreement that Prime Minister George Papandreou will step aside for a new coalition government. But who will take Mr. Panandreou's place?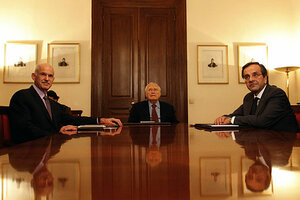 Kostas Tsironis/AP
Greek Prime Minister George Papandreou and opposition leader Antonis Samaras have agreed on a new coalition government to approve a eurozone bailout deal before elections, the office of the country's president said on Sunday.  
The agreement came after the two leaders held talks with the president in an effort to break a political deadlock and thrash out a deal for a national unity government demanded by the country's European partners.
A presidency statement said they will meet again on Monday to discuss who would head the coalition government, but that Papandreou would not lead the new administration.
 "Tomorrow there will be new communication between the prime minister and the opposition leader on who will be the leader of the new government," the statement said.
The statement made no mention of how long the interim government would last.
The European Union gave Greece 24 hours on Sunday to explain how it will form a unity government to enact a bailout agreement.
Papandreou and his opponents have been scrambling to hammer out a deal ahead of a meeting by finance ministers of euro countries on Monday, to show that Greece is serious about taking steps needed to stave off bankruptcy.