With Hezbollah's help, Syrian troops push to regain Lebanese border areas
The Syrian Observatory for Human Rights said 30 people, including 16 rebel fighters and one woman, were killed in Qusair in morning fighting, but that the death toll was expected to rise.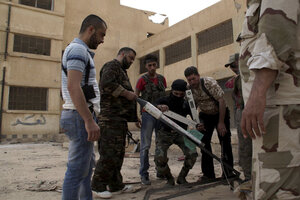 Khalil Ashawi/Reuters
Syrian troops backed by tanks and warplanes launched an assault Sunday on a strategic rebel-held town near the Lebanese border, pounding the area with airstrikes and artillery salvos that killed at least 30 people and forced residents to scramble for cover in basements and makeshift bunkers, activists said.
The town of Qusair has been besieged for weeks by regime troops and pro-government gunmen backed by the Lebanese militant Hezbollah group. The siege is part of withering offensives forces loyal to Syrian President Bashar Assad have been pushing in recent weeks to regain control of the towns and villages along the Lebanese frontier.
The region's strategic value is twofold: It links Damascus with the Mediterranean coastal enclave that is the heartland of President Bashar Assad's Alawite sect, an offshoot of Shiite Islam; and rebels smuggle weapons and supplies from Lebanon across the porous frontier to opposition fighters in Syria.
The Britain-based Syrian Observatory for Human Rights said 30 people, including 16 rebel fighters and one woman, were killed in Qusair in morning fighting, but that the death toll was expected to rise as government troops continue to try to push into the town.
'Safe passage' offered
A government official in the nearby provincial capital of Homs said that regime troops have encircled the town and that "the offensive to liberate Qusair has begun."
The official, who spoke on condition of anonymity because he was not authorized to brief the media, said the army has built up its forces on three fronts around Qusair while leaving one clear for "safe passage for fleeing civilians and the armed terrorists who want to surrender."
The official said government forces have advanced into the town, taking over the municipality building and other vital government institutions.
But Hadi Abdullah, an activist in Qusair reached on Skype, denied the regime made any advances on the ground. He said the municipality was destroyed in fighting six months ago, and that there's no government building left to take over.
He said heavy shelling began late Saturday and continued through Sunday, and that civilians have sought shelter in basements
"It's the heaviest since the beginning of the revolution," he said, adding that at least 17 houses have been destroyed.
The discrepancy in the accounts could not be immediately verified.
Separately, an official at the Homs governor's office said two suicide bombings in the town of Deir Balbaa just outside of Homs killed at least three people and wounded 15 others. The official declined to be identified because he is not allowed to make public comments.
Another pair of bombings struck near a factory on a different Homs highway, killing four people and wounding 13, the state news agency reported.
US-Russia peace effort
The regime' offensive on Qusair comes as the United States and Russia push a joint effort to get Assad and his opponents to negotiate an end to the country's civil war. Previous attempts to solve the conflict peacefully have failed.
The US-Russian plan, similar to one set out last year in Geneva, calls for talks on a transition government and an open-ended cease-fire.
More than 70,000 people have been killed and several million displaced since the uprising against Assad erupted in March 2011 and escalated into a civil war. The fighting has also spilled over into neighboring states, including Turkey, Iraq, Lebanon, and Israel, all of which are anxious about the ripple effect of Syria's conflict on their own nations.
On Sunday, Israeli Prime Minister Benjamin Netanyahu warned at a weekly Cabinet meeting Sunday that the Jewish state was prepared to act if there were more shipments to Hezbollah from Syria.
"We are following the developments and changes there closely and we are prepared for every scenario," he said.
Israeli warplanes carried out two rounds of airstrikes on Damascus early this month on what officials have said were sophisticated missiles bound for Hezbollah.
Assad interviewed
On Saturday, Assad said in a newspaper interview that he won't step down before elections and that the United States has no right to interfere in his country's politics.
Assad's comments to the Argentine newspaper Clarin were the first about his political future since Washington and Moscow agreed earlier this month to try to bring the regime and the opposition to an international conference for talks about a peaceful resolution to the conflict. The US and Russia have backed opposite sides in the conflict, but appear to have found common ground in the diplomatic push.
The White House and the Kremlin envision holding the meeting next month, but no date has been set. Neither Assad nor the Syrian National Coalition, the main Western-backed opposition coalition group, has made a firm commitment to attend.
In the interview, Assad seemed to play down the importance of such a conference, saying a decision on Syria's future is up to the Syrian people, not the US He also said a decision on his political future must be made in elections, and not during such a conference.
As the regime and opposition decides whether to even take part in the conference, the planning for the potential talks looked set to move forward.
Jordan is to host Western and Arab foreign ministers, including US Secretary of State John Kerry, for a meeting Wednesday that brings together the Syrian opposition's foreign supporters to plan for the peace talks.
In Egypt, the Arab League said its ministerial committee on Syria will meet Thursday to discuss ways to convene the international conference on Syria. The Syrian opposition said they will meet in Turkey that same day to discuss whether to take part in an international conference on the conflict.
* Associated Press writers Albert Aji in Damascus, Syria, Aron Heller in Jerusalem, Maamoun Youssef in Cairo, Egypt, and Yasmine Saker in Beirut contributed to this report.