Angela Merkel: Right-wing electoral victories are 'remarkable and regrettable'
Angela Merkel, the German chancellor, denounced this weekend's right-wing victories in France and elsewhere. Merkel said the best response is to focus on creating jobs and improving economic conditions.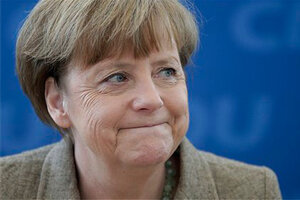 Michael Sohn/AP
German Chancellor Angela Merkel says the rise of right-wing populists in the weekend's European elections is "remarkable and regrettable." She says the best answer is to focus on policies that create jobs and improve competitiveness.
In one of the most prominent upsets, the far-right National Front topped polling in neighboring France. Merkel said in Berlin on Monday that it's important to win back voters – and "that goes for France, too."
She added, "A course directed toward competitiveness, growth, and jobs is the best response to those who are disappointed and have now voted the way we all didn't want."

Recommended:
In Pictures
Merkel's Magic
Merkel's conservatives were the strongest force in Germany but Alternative for Germany, a year-old party that calls for southern European countries to leave the euro-zone, took 7 percent of the vote.
Copyright 2014 The Associated Press. All rights reserved. This material may not be published, broadcast, rewritten or redistributed.