Britain deploys SAS to Iraq, France sending weapons to Kurds
Paris and London have agreed to coordinate their actions on both humanitarian aid and arms, the office of President Francois Hollande said.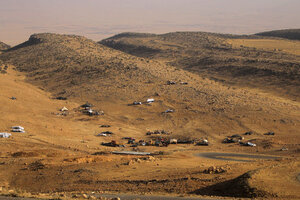 Rodi Said/Reuters
 Britain has deployed SAS special forces in northern Iraq where thousands of civilians are trapped on a mountain by Sunni militant fighters, the Daily Telegraph newspaper reported on Thursday.
Citing Britain's trade envoy to Iraq, Emma Nicholson, the paper said that officers from the Special Air Service(SAS), the army's special forces regiment, were working with US troops to gather intelligence and had been in Iraq for about six weeks.
When asked about the newspaper report, a spokesman for Britain's Ministry of Defense said it did not comment on special forces operations.
Britain has sent military planes and helicopters to the region to help deliver humanitarian aid.
Prime Minister David Cameron cut short his summer holiday on Wednesday to say that Britain would be involved in any international plan to rescue refugees from the Yazidi religious minority.
The Yazidi have been forced into the Sinjar mountain range by the advance of Islamic State fighters into the semi-autonomous Kurdish region.
The United States has said that a mission to rescue the refugees was far less likely than originally thought after an assessment team sent on Wednesday word the humanitarian situation was not as grave as expected.
Calling the situation in Iraqi Kurdistan "catastrophic," France said Wednesday it would start supplying arms to the Kurdish forces fighting Sunni extremists from the Islamic State group.
Paris and London have agreed to coordinate their actions on both humanitarian aid and arms, the office of President Francois Hollande said.
It said the French president spoke with British Prime Minister David Cameron Wednesday evening and agreed on the need for an "extremely rapid response," but didn't clarify whether Britain outright consented to furnish weapons to the Kurds, who are trying to push back radicals of the IS group.
French Foreign Minister Laurent Fabius refused to specify the type of arms France would deliver, saying only they would be "sophisticated."
The sudden announcement that arms would begin to flow within hours underlined France's alarm at the urgency of the situation in Iraq, where the IS group fighters are threatening the autonomous Kurdish region in northern Iraq.
Senior American officials say US intelligence agencies are directly arming the Kurds. On Tuesday, 130 US troops arrived in the Kurdish capital of Irbil on what the Pentagon described as a temporary mission to coordinate plans to help trapped Yazidi civilians on Mount Sinjar.
Any French military strikes would need prior approval from the UN Security Council, a standard French position, and would take place only if conditions are right, Fabius said.
A French diplomat close to the situation would not exclude eventual French strikes in an "evolving situation." The diplomat asked not to be named because the person was not authorized to publicly discuss French policy.
France says its arms shipment was coordinated with the Iraqi government.
French authorities have pushed other European Union members to do more to aid Christians and other minorities being targeted by the Islamic State group extremists.
EU foreign ministers will hold an emergency meeting Friday to coordinate their approach to the crisis and to endorse the European arms shipments already announced, the EU said Wednesday.
The turmoil stems from the quick advance of the IS group and allied Sunni militants across northern and western Iraq in June. The insurgency seized Iraq's second largest city, Mosul, and routed Iraq's beleaguered armed forces. Thousands of people have been killed and more than 1.5 million have been displaced by the violence.