Netanyahu says Israel won't budge on building in East Jerusalem
After returning from a contentious visit to the White House, Israel Prime Minister Netanyahu reiterated that Israel would not compromise on building in East Jerusalem. But many observers say he will have to move away from coalition partners who advocate a hard line.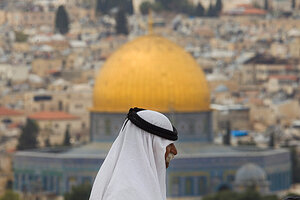 Bernat Armangue/AP
Returning from the United States to a swirl of speculation about political turmoil from Obama administration pressure for concessions to boost the peace process, Prime Minister Benjamin Netanyahu sought to mollify his allies.
The Israeli leader huddled with a group of seven top cabinet ministers to formulate another response to US demands, but reiterated he would not compromise on Jewish building in predominantly Arab East Jerusalem. The prime minister added that he has no plans to jettison his political allies, according to the daily Haaretz newspaper's website.
But Netanyahu's stance and President Obama's pressure have resulted in the worst public spat between the US and Israel in decades. At stake for Israel is a potential deterioration of ties with its most important ally.
IN PICTURES: Israeli settlements
IN PICTURES: The Israeli separation barrier: A West Bank wall
"There's no change in the prime ministers position regarding Jerusalem, which has been constant for the last 42 years,'' said a statement released by the prime minister's office.
The tough words came hours before two Israeli solders and two Palestinians were killed on the Israel-Gaza border. An Israeli military spokeswoman said the deaths were the result of an exchange of fire between a unit of soldiers that had entered Gaza after detecting Palestinian militants laying a roadside bomb.
Despite Netanyahu's defiant public stance this week, many experts believe that US pressure will force the prime minister to bend toward the Obama administration and away from right-wing coalition partners. In that case, Netanyahu would become reliant on the center-left Kadima party, and political rival Tzippi Livni.
But Netanyahu aide Tzvi Hauser told Israel television stations that he can find "golden path'' to satisfy the US while remaining faithful to his current government. Unnamed sources from the prime minister's office asserted the pressure amounted to meddling in Israel's domestic politics, because it could force a new election.
Indeed, it is a commonly held view that a compromise between Obama and the interests of hard-line politicians like Avigdor Lieberman is impossible to strike.
"Since Netanyahu cannot reconcile the most extreme elements of his government with the American positions on the peace process,'' says Scott Lasensky, a fellow at the US Institute for Peace, a government-funded nonpartisan think tank, "he is facing a fundamental choice – and if history is any guide, the Israeli public prefers strong relations with Washington than settlement building in Arab areas.''

Trouble with the US = trouble at the ballot box
Israeli prime ministers who have gotten into hot water with the US have been spurned at the ballot box, including Netanyahu after his first term in office.
The US is upset about Israel's announcement of a 1,600-home building project in a Jewish neighborhood in East Jerusalem, which upended Vice President Joe Biden's visit two weeks ago and made the Palestinians balk about a new peace initiative. It is concerned that future such plans will undermine peace talks.
Netanyahu has asserted that the land, annexed after the 1967 Arab Israeli war, is part of Israel's capital.
The Israeli prime minister came home to a lambasting in the press, which called his visit to the US a resounding failure and blamed him for not anticipating the cold reception at the White House.
Indeed, Netanyahu's visit was shrouded in a public relations blackout, with no joint photos and no joint statements as is usually customary when Israeli leaders visits. It was widely reported in the Israel press that Obama took a break from the meeting, leaving Netanyahu and advisers alone to discuss a response to the US demands.
The prime minister's refusal to offer concessions on the peace process could undermine the campaign to block Iran from acquiring nuclear weapons, says Ephriam Sneh, a former parliament member from the Labor Party, which is the dovish member of Netanyahu's coalition.
If the crisis with the US endures, pressure within the Labor Party could mount on leader Ehud Barak, currently the defense minister, to withdraw from the coalition. But Mr. Barak is unlikely to withdraw because he wields greater influence as defense minister than he does as the leader of the second-largest party on the parliamentary opposition.
The prime minister said last week he'll agree to confidence-building measures in the West Bank, but that did not satisfy the administration. It is unclear how partners like Foreign Minister Lieberman and Interior Minister Eli Yishai would react to more far-reaching concessions. A minority of experts have said Netanyahu has more leverage than expected because his coalition partners are not eager to sit in the opposition.
Netanyahu could offer the US a "symbolic'' concession, such as freezing Jewish building projects in Arab neighborhoods of Jerusalem, but little more, says Avraham Diskin, a professor of political science at Hebrew University. Reflecting the prevailing political analysts, Diskin said the prime minister will be hard pressed to win approval of coalition allies.
IN PICTURES: Israeli settlements
IN PICTURES: The Israeli separation barrier: A West Bank wall