Rocket attacks on Israel and Jordan highlight how Hamas could use Sinai
Rocket attacks against Israeli and Jordanian resort towns on the Red Sea are believed to have come from Egypt's Sinai, raising fresh concerns about militant activity – possibly including Hamas – there.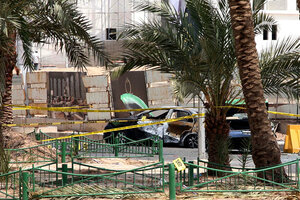 Abraham Farajian/AP
A salvo of at least five rockets, believed to have been fired from Egypt's Sinai Peninsula, hit the Red Sea border area between Jordan and Israel on Monday morning. Three of the Katyusha rockets fell on the Israeli coastal resort area of Eilat, while the others hit outside the Intercontinental Hotel in the Jordanian resort city of Aqaba, killing one Jordanian and wounding at least three others.
This was the second attack on the area believed to come from Sinai in less than four months, and it highlights ongoing concern about the extent of Egypt's control over suspected militant activity in that region.
In the past, such concerns have focused on global Islamist groups believed to be operating there with the help of local Bedouins. But with the rise of Hamas in the Gaza Strip, concern is growing in Israel that the Palestinian Islamist movement – an offshoot of Egypt's banned Muslim Brotherhood – is seeking to expand its militant infrastructure into Sinai.
Egypt denied that Monday's rockets were fired from Sinai, citing "heavy security" in the area. But Jordanian Minister of Information Ali Ayed told the Monitor that authorities in Amman are "very certain" the rockets were fired from outside Jordan, though he declined to speculate from where or by whom.
According to a statement by the Israel Defense Forces, the IDF and Israeli police are investigating the attack in Eilat and trying to determine its source. But analysts say that neither Jordan nor Israel is likely to call Egypt to task publicly over the rocket attacks.
"The Israeli government isn't going to come out and embarrass the Egyptians," says Gerald Steinberg, a political science professor at Bar Ilan University. "It's a general problem of Egypt in decline, the end of the Mubarak era."
How Hamas could use the Sinai to attack Israel
Israel shares a border with Egypt along the Sinai Peninsula that has long enabled local Bedouins to smuggle drugs, African migrants, and prostitutes. The Bedouin are also believed to have helped global Islamist groups and Hamas smuggle weapons mainly from the Gaza Strip into Sinai. In April, Egypt sentenced 26 alleged members of a Hezbollah spy cell on charges that included plotting attacks on tourist sites and smuggling weapons to Islamist Hamas militants in the Gaza Strip.
Secret underground tunnels have facilitated the weapons smuggling. With the Israel-Gaza border sealed off, Israeli officials have been concerned that Hamas could carry out attacks on Israel by exiting Gaza west through the tunnels into Sinai, traveling south parallel to the Israel-Sinai border, and then east back into Israel through the porous border. (See map.)
That plan of attack has been complicated by Egypt's construction in recent months of a subterranean barrier that blocks some of the tunnel traffic. But with Egypt in flux amid concerns about President Hosni Mubarak's health, and a looming succession battle, it's unclear how much control Egypt can exert over the Bedouin and their partners.
"The farther from Cairo, the weaker the central authority is. They are having great difficulties with the Bedouin,'' says Ronen Bergman, a security commentator for the Israeli daily newspaper Yediot Ahronot. "If Hamas is able to deepen its cooperation with the Bedouin, and create bases in Sinai for recruitment, we're talking about a new ballgame."
Egypt roiled by Red Sea bombings for past decade
Over the past decade, Egypt has been roiled by a handful of bombings targeting Red Sea resort cities stretching from Sharm el-Sheikh at the southern tip of Sinai to Taba.
The bombings were assumed to be the work of Islamist militant groups, affiliated with international terrorist organizations like Al Qaeda, which target foreign and Israeli tourists in Egypt.
More recently, two Katyusha rockets were fired in the direction of Eilat on April 22; one touched down in Aqaba and the other in the sea. There were no reported injuries. Then, as now, Jordan insisted that the rockets came from outside, but didn't say any thing beyond that.
Jordan's information minister declined to comment to the Monitor today on the results of the previous investigation.
Related: