Five largest Israeli settlements: who lives there, and why
The end goal of the current Israeli-Palestinian peace talks is two separate, sovereign states. Palestinians say that the expansion of Israeli settlements in the West Bank, deemed illegal by the United Nations, influence the outcome of such talks. With more than 300,000 Israelis now living in such settlements, Israel expects to keep at least some of them under a final peace deal – possibly as part of a land swap.
An estimated three-quarters of Israeli settlers live on a relatively small percentage of the West Bank, most of them in communities adjacent to Israel proper. Some of them are ideologically driven and some are attracted by the low cost of living; many are motivated by a combination of the two.
Here are the five most populous settlements in the West Bank.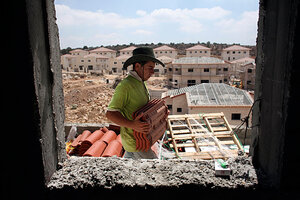 Nir Elias/Reuters
5.

Ariel

Founded in 1978

Population: 16,716

Of the five largest settlements in the West Bank, Ariel is located the furthest from the Green Line – more than 9 miles. It lies east of Tel Aviv and north of Jerusalem. Though it remains on the Palestinian side of the separation barrier, it is considered a strategic bulwark protecting Israel's narrow middle. It is home to the Ariel University Center of Samaria, which enrolls 8,500 students, both Jews and Arabs. (Editor's note: The original version of this article mischaracterized the nature of the school.)

See map.