Tariq Aziz and Iraq's most-wanted deck of cards: where are the aces and kings now?
Top Saddam Hussein aide Tariq Aziz, sentenced to hang Tuesday, was one of 55 people featured in the notorious decks of playing cards handed out to American forces when they invaded Iraq. The cards featured the most-wanted members of Sadaam's government. Aziz's sentencing warrants a look at where those aces and kings are today.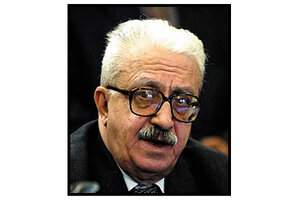 Centcom/Reuters
5.

Tariq Aziz

Aziz, the eight of spades in the deck, was the international face of Saddam's regime. On Monday, an Iraqi court created to try officials of the former regime sentenced him to death for crimes against humanity – specifically the persecution of Islamic political parties opposed to Saddam. The Christian Science Monitor reported that Aziz, the former deputy prime minister as well as foreign minister, claimed that he merely had a political position and was not directly involved in any crimes. International experts have criticized the decision to try former Saddam officials in Iraq, where there is strong political influence in the justice system, rather than in an international court.