Lebanon 101: Why Hezbollah hates the Hariri tribunal.
The collapse of Lebanon's coalition government has pushed the country, once again, to the brink of upheaval. The heavily-armed Hezbollah is furious that Prime Minister Saad Hariri is coperating with a United Nations tribunal investigating the assassination of his father Rafik. Here's what the tribunal is all about, and why Hezbollah opposes it: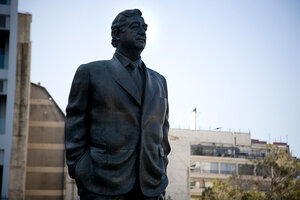 Grace Kassab/AP
Who is Rafik Hariri?

Rafik Hariri was the Lebanese prime minister from 1992 to 1998 and 2000 to 2004. He was assassinated in a February 2005 bombing that also killed 22 others.

Hariri, a Sunni Muslim with close ties to Saudi Arabia, was credited with getting Lebanon back on its feet after a devastating civil war. His humble beginnings – he came from a poor family and grew up in a southern port city – and lack of political or military connections were attractive to many when he first became prime minister.

Following the civil war, he embarked on significant reconstruction and development efforts. He opposed Syrian involvement in Lebanese politics, and pressure from Syria is believed to be a key factor behind his 2004 resignation.