Palestine Papers: 5 disclosures that are making waves
Al Jazeera's trove of documents on Israeli-Palestinian peace negotiations, which the news organization has dubbed the "Palestine Papers," landed with a resounding thud on desks in Jerusalem and Ramallah yesterday.
Al Jazeera has so far only released some of the documents, which appear to come from the Palestinian side. Though Palestinian officials allege that some of the documents are faked, here are a few of the claims they contain that are already making waves in regional capitals.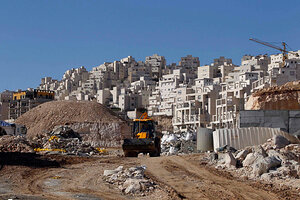 Ammar Awad/Reuters/File
Palestinian land concessions

Israeli settlement expansion in East Jerusalem – considered occupied territory under international law – has been a major obstacle to renewed peace talks, with leaders like Palestinian Authority President Mahmoud Abbas arguing that peace talks are pointless while Israel is expanding its presence on land they claim for a Palestinian state. But according to the Al Jazeera documents, chief Palestinian negotiator Saeb Erekat in 2008 proposed allowing Israel to keep almost all of its East Jerusalem settlements in a final deal. The only exception was the Jewish neighborhood of Har Homa. Mr. Erekat described the concessions as "historic" but got a negative response from Tzipi Livni, then Israel's foreign minister. "We do not like this suggestion because it does not meet our demands… but I really appreciate it," Ms. Livni reportedly said.