Q&A: What's with the war talk surrounding Iran?
Tensions over Iran's nuclear program have escalated in recent weeks as the US and Europe ramp up sanctions against the Islamic Republic. The country's currency took a nosedive after President Obama signed legislation on Dec. 31 targeting Iran's Central Bank. Tehran has responded with threats to cut off the Strait of Hormuz, a vital corridor for international oil shipments. We examine six key questions.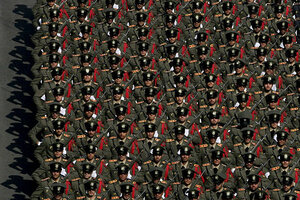 Office of the Supreme Leader/AP/File
1.

What are the odds of armed conflict?

The short answer for this year is "low." But all the muscle flexing in recent months has increased the risk.

That posturing has included US sanctions; a European agreement in principle to an oil embargo on Iran; apocalyptic warnings by Iranian, American, and Israeli politicians; and military exercises in the Strait of Hormuz – through which roughly a fifth of the world's oil tankers pass each day.

President Mahmoud Ahmadinejad, facing an economy in a tailspin and fears of imminent military action against Iran, has gone into aggressive speech mode, as much to get Iranians to rally around the flag as to scare the United States.

Israel hints from time to time that it's planning a unilateral attack, but that generally appears to be an attempt to push the US to take a tougher line rather than a statement of genuine intent. US Secretary of Defense Leon Panetta cautioned Israel against such an attack during an appearance on CBS' Face the Nation on Sunday. "We have common cause here" with Israel, Mr. Panetta said. "And the better approach is for us to work together."

The real wild card is the risk of unplanned violence: an Iranian naval commander taking it into his own head to attack a US ship, or the US mistaking innocuous maneuvering as a hostile act and firing first.