What sanctions? Top five countries buying oil from Iran.
Iran is the third-largest exporter of crude oil in the world, behind Saudi Arabia and Russia. Its economy relies heavily on oil exports. Recent Western sanctions have targeted Iran's oil industry in hopes of pressuring Tehran to address international concerns about its nuclear program.
However, the effect of the sanctions could be limited if Iran's top customers keep buying oil, or even increase their imports. According to tallies from June 2011, here are the top 5 importers of Iranian oil: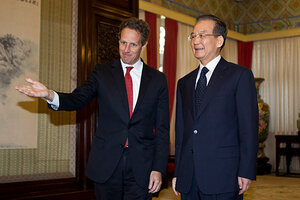 Andy Wong/AP/File
1.

China

China bought 22 percent of Iran's oil exports in the first half of last year, making it the top importer of Iranian oil.

China has increased its imports of Iranian oil, as other countries including Italy and Britain have decreased their volume, according to the US Energy Information Administration (EIA). Iranian exports of crude and other oil products to China totaled close to 540,000 barrels per day (bpd) in China last year – up from 426,000 bpd the year before.

Despite US pressure to help squeeze Iran's economy, Beijing has consistently stood its ground on remaining a loyal customer of Iranian oil. China is one of the most populous countries in the world, and is dependent on oil imports to fuel its economy.