After film, push strengthens for blasphemy clause in Egypt's constitution
Last week, anger over an anti-Islam film fueled protests at the US embassy. This week, religious conservatives will seek to prohibit blasphemy in the Egyptian constitution.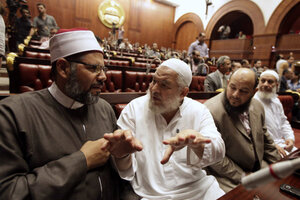 Mohamed Abd El Ghany/Reuters/File
Last week's protests in reaction to an anti-Islam YouTube clip have led to Egyptian demands that the United States prosecute the filmmakers and may give a decisive push to an effort to enshrine in the Egyptian constitution the criminalization of blasphemy, or insulting religious figures.  
While the US-based filmmakers are protected under the First Amendment in the US, in some parts of the Middle East they could be prosecuted under laws that criminalize disparaging religion. 
In Egypt, the backlash could bolster a preexisting effort to insert a clause banning religious insults into Egypt's new constitution. Islamist parties support the effort, and the idea of criminalizing blasphemy has broad public support, but civil rights advocates argue it would restrict free speech.

Test Your Knowledge
Could you pass a US citizenship test? Find out.
"I think this will just provide incredible strength to the push to have that provision in the constitution," says Heba Morayef, a Cairo-based researcher for Human Rights Watch, of the current uproar. "I'm very depressed about what this means for freedom of expression."
Many Egyptians appear to reject the extent of free speech protection in the US, considering it more important to protect the public order than to protect a person's right to say offensive things. 
A committee of the constituent assembly, which is writing Egypt's new constitution, is scheduled to introduce the article to the assembly this week, says Nader Bakkar, a spokesman for the Salafi Nour Party, which helped write the provision. He expects the assembly to accept it, "especially after what happened last week regarding prophet Muhammad, peace be upon him." The article would ban insulting God or any prophets, including Muhammad.
"Denigrating religion" is already a criminal, not civil, offense under Egypt's penal code, meaning those who break the law face jail time, not fines. It has been invoked numerous times – in the last year and a half against one of Egypt's most well-known actors, a Christian business mogul, and others. 
Recent cases
In what appears to be the latest case, a young Christian man was arrested last week in the Cairo suburb of El Marg, after reportedly posting the anti-Islam YouTube clip to his Facebook page. He is charged with insulting Islam, and is currently in prison while the prosecutor investigates the case. Egyptian Initiative for Personal Rights (EIPR) researcher Ishak Ibrahim says the man was attacked by other prisoners while held in a local police station before he was transferred.
Mr. Ibrahim says that since the uprising that unseated former leader Hosni Mubarak, the law has been increasingly used against Christians. In April, a court in the southern city of Assiut sentenced a 17-year-old Christian to three years in jail for publishing a cartoon on his Facebook page that mocked Muhammad and Islam, and distributing it to his classmates. Crowds in his hometown rioted after the case was publicized, burning down Christian homes.
But appeals courts have sometimes stepped in and reversed such verdicts, as they did in the case of famous Egyptian actor Adel Imam. Last week a court overturned a conviction for defaming Islam in several of his films, for which a previous court sentenced him to three months in prison.
Prohibiting religious insults in the constitution could make overturning such verdicts less likely. Historically, the Supreme Constitutional Court has been "quite good" on some human rights issues, using the constitution as justification to overturn lower court rulings that violated citizens' rights, says Ms. Morayef.
"If it's embedded in the constitution it will take away another tool that you had in the human rights community," she says.
Citizens can bring cases
Egyptian daily Al Masry Al Youm reported last week that the proposed article for the new constitution would ban insulting God, "prophets of God, Prophet Mohamed's wives, the righteous caliphs and the prophet's companions." Mr. Bakkar of the Nour Party said that he expects the assembly to accept the article, and that the Muslim Brotherhood's Freedom and Justice Party (FJP), Egypt's leading party, has indicated it will not oppose it.
Amr Gharbeia, director of the civil liberties program at EIPR, who has viewed the draft, says it poses further problems because it puts the right to bring cases on this basis in the hands of private citizens, not the public prosecutor.
A similar law that allowed individuals to bring cases against anyone they accused of denigrating religion was changed in 1996, after a prosecution forced liberal Quranic scholar Nasr Hamed Abu Zaid into exile. A group of lawyers offended by his work brought a case against him that ended with a court declaring him an apostate. A court subsequently ordered him to divorce his wife because under Islamic law a Muslim woman cannot marry a non-Muslim man.
After this case, the law was changed to give the prosecutor, not normal citizens, the authority to bring such cases. But according to a draft Mr. Gharbeia has seen, the new document would give that right back to individual citizens, which would likely lead to a sharp increase in the number of cases, he says.
And though Christians have increasingly been the target of the current law, it can be used against any minorities. Shiites are marginalized in mostly Sunni Egypt, and, according to Ibrahim, a Shiite man was recently sentenced to three years in prison after a court convicted him of insulting a mosque. That sentence was reduced to one year on appeal, and the man is appealing the sentence again.
Morayef says putting the clause in the constitution "sort of embeds the idea that there are certain religions that have to be protected, and that will be defined by whoever is in power at that point." The provision only covers Islam, Christianity, and Judaism, the only religions recognized by the Egyptian state, and is rarely, if ever, used to convict someone of insulting Christianity or Judaism.
"The constitution has been used to strengthen equality and the idea of citizenship, and embedding this in the constitution will do the exact opposite," says Morayef. "It will give preference to a particular sect of a particular religion that's interpreted in a particular way." 
Salafis: Freedom has limits
Bakkar, of the Nour Party, said freedom of expression should not include the freedom to insult religious figures.
"There is a huge difference between the freedom to express your feelings, your point of view, and the direct and obvious insult to the prophets… It doesn't restrict freedom of speech at all. Freedom of speech doesn't mean to insult God or the prophets."
Many of the protesters assembled at the US embassy the first night of demonstrations, when crowds breached the walls and brought down the American flag, agreed.
"Yes, there is freedom. But there are limits," said protester Mohamed Ahmed Sayed. Free speech should not include the freedom to insult religious figures, said protesters, whether Muslim or Christian, he said. 
In their statements about the protests, the Muslim Brotherhood and its political arm, the FJP, repeatedly called on the US to prosecute the makers of the video that incited the protests – even though there would be no law to prosecute them for what they said. However, police in California questioned Nakoula Basseley Nakoula about whether his alleged involvement in the film violated terms of his parole after serving time in federal prison for bank fraud. Mr. Nakoula is barred from using aliases and has restrictions on his Internet access. 
"Certainly, such attacks against sanctities do not fall under the freedom of opinion or thought," said a statement released by the Muslim Brotherhood. "They are crimes and assaults against Muslim sanctities, and must not be tolerated by the countries where they are produced or launched, since they are also detrimental to the interests of those countries in dealings with the peoples of the Muslim world."
The statement called for the criminalization of  "assaults on the sanctities of all heavenly religions," which encompasses only Islam, Christianity, and Judaism.
For many in Egypt, this is only reasonable.
"The general idea when it comes to speech or controlling speech in Egypt is that it's not about the individuals, it's about keeping order" for the majority, says Gharbeia of EIPR. "And this is why, for example, we see much more uproar about protecting ideas, or historical persons [like Muhammad], while we do not see the same reaction from the state but also from society around hate speech against specific groups of people" who are minorities.