Syrian rebels struggle to keep regime Air Force on the ground
Aware that options for combating the Syrian Air Force are limited once jets and helicopters are in the air, rebels are trying to take over air bases and destroy aircraft before they get off the ground.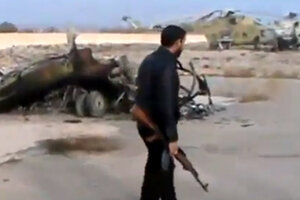 Ugarit News via AP video
In recent weeks, Syrian opposition fighters have claimed a string of tactical gains, most recently capturing two regime bases, a helicopter base near Damascus, and a hydroelectric dam in the north of the country. The victories are said to have caused a significant blow to the morale of the embattled Syrian Army and brought the outgunned rebel forces closer to besieging the capital city and cutting off critical regime supply lines.
In Aleppo, fighting around the airport is one of the most critical battlefields. The airport does not host any fighter jets, but rebels say several military helicopters, which supply regime troops and carry out airstrikes, use the airfield.
The rebels lack effective antiaircraft weapons, relying instead on heavy machine guns that they say have made a dent in the regime's ability to attack freely by air. But shooting down planes with such equipment is often more a matter of luck, or "God's will," as Free Syrian Army (FSA) fighters prefer to say. Destroying planes and helicopters still on the runway is the FSA's best air defense.

Test Your Knowledge
Could you pass a US citizenship test? Find out.
"We don't have antiaircraft weapons, so we have to sneak into the airport at night and destroy helicopters when they're on the ground. We don't have the heavy weapons to shoot them out of the sky," says Abu Hamdu, a deputy FSA commander who leads troops now fighting at the airport. Mr. Hamdu claims his men have destroyed several helicopters.
The capture of another base about 10 miles outside Damascus, the Marj al-Sultan, is particularly important for the rebels, not just because of its proximity to the capital, but because it resulted in the destruction of two helicopters, say opposition fighters. 
Throughout Aleppo, activists who monitor airstrikes say they've seen about a 65 percent drop in attacks in the past two months. While rebels say this is because of their improved antiaircraft defense system, which relies on heavy machine guns mounted on trucks spread throughout the city, there may be a number of other factors contributing to the drop in attacks, such as maintenance issues that reduce flying time for jets.
Government jets are still carrying out lethal attacks, such as a recent one in which activists say a government jet dropped a cluster bomb over a playground east of Damascus, killing 10 children. The Assad regime has denied the mounting allegations in recent months that it is using cluster bombs, which have been banned by 77 countries because of the threat they pose to civilians. 
FSA fighters have asked the international community for support and weapons, such as stinger missiles, to help them counter the Syrian Air Force. So far, the opposition has struggled to acquire any backing, mainly because of a fragmented leadership that lacks a clear command and leadership structure.
Earlier this month, opposition leaders in Qatar agreed to create a new organization called the Syrian National Coalition for Opposition and Revolutionary Forces. The international community hopes that the coalition can serve as a conduit for assistance and possibly weapons to arm the FSA.
In Aleppo, however, a group of commanders representing almost all FSA units in the province came together last week and rejected the authority of the new coalition, saying it lacked on-the-ground representation. They now say they've created their own unified military command representing fighters in Aleppo.
"Through this new unified command the international community can talk to us and give us weapons," says Abu Hamam Al Dulani, an FSA commander who participated in the meeting that created the new military command.
The new unified Aleppo command lacks a central leader, preferring to make decisions by an Islamic shura council. The lack of a singular leader, and its rejection of the new coalition in Qatar, however, may only serve as yet another sign of division and a red flag for outside nations considering backing the Syrian opposition.