Cairo erupts into violence as security crushes protest camp
At least 149 people were killed in Cairo when authorities broke up a pro-Muslim Brotherhood protest. The operation touched off attacks across the country.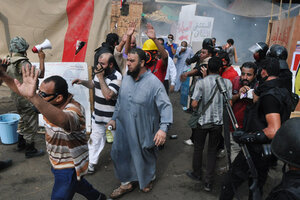 Hussein Tallal/AP
Security forces attacked two protest camps full of supporters of the ousted president early this morning, killing dozens of people and sending Egypt into a fresh spiral of violence. Attacks on churches and police stations, as well as violent clashes between citizens and police, spread throughout Egypt.
The military-backed interim government declared a state of emergency and evening curfew as the death toll, more than 149 people by the afternoon, rose. Clashes continued at the largest protest camp and elsewhere in the capital and Egypt through late in the day. 
The police crackdown and the wave of violence following it, including multiple attacks on Christians, marks a turn toward a dangerous new chapter of the political crisis that has been simmering since the military deposed former President Mohamed Morsi last month. 
"They want to finish this demonstration that is supporting the legitimate president Mohamed Morsi," said Ahmed el Hawary, a Morsi supporter who was trying to block police from passing near the site of the main protest camp this morning. Gunfire echoed and a huge plume of smoke rose from the site, as he continued, "They will succeed in finishing this but we're expecting civil war in Egypt, in every place, between the army and police and the people." 
The decision to disperse the protests has opened myriad new challenges for the military and interim government . The wave of attacks across the country, and the pressure the interim government is likely to be under for the crackdown, is expected to alter the transition plan for a return to elected government that was outlined last month.
"This interim government has chosen a fully securitized approach to this political crisis, and while it likely has robust popular backing, it is not going to quell the dissent and is going to precipitate violent reprisals and insurgent style attacks throughout the country, with a particular emphasis on sectarian reprisals," says Michael Wahid Hanna, an Egypt expert at the Century Foundation. "The possibility for near term deescalation is pretty bleak… and whatever ambitious timelines for transition that were laid out on the original roadmap are going to have to be shelved."
Nobel laureate Mohamed ElBaradei, a deputy vice president in the interim government who had helped garner international support and had opposed a crackdown on the protests, resigned today. In a letter to the military-appointed interim president he wrote "It has become difficult for me to continue bearing responsibility for decisions that I do not agree with and whose consequences I fear." 
A new wave of martyrs
Following weeks of warnings, police began clearing the camps early this morning, using bulldozers, tear gas, and live gunfire. The sit-ins were filled with Morsi supporters, some families with children, who had vowed to stay until he was reinstated. While police overpowered the smaller camp in eastern Cairo within hours, clashes continued this afternoon at the larger camp in the Nasr City neighborhood.
Police blocked roads leading to the protest, and those inside say they were besieged and shot at from nearby rooftops. The entrance to the field hospital, where dozens of bloodied bodies lined the floor, came under fire, preventing the safe evacuation of the wounded, said those inside the hospital. As evening fell, eyewitnesses reported that police raided the hospital and police were allowing some protesters to leave the square. 
Around the perimeter of the encampment, Morsi supporters clashed with police. The Interior Ministry, which oversees the police, said in a statement that it had only used tear gas, but gunshot wounds in six dead bodies lined up in a mosque near the police lines told a different story. The mosque was turned into a hospital as police and protesters fought nearby and dead and wounded were brought inside. One doctor, his green scrubs soaked in sweat, worked desperately to save a severely wounded man who struggled to breathe. 
Volunteers yelled "Martyr!" as they brought in a body and laid it on the green carpeted floor next to the others, then covered it with a sheet. A family gathered around one of the bodies, crying and wailing as they cradled the head of their dead loved one.
Nearby, Maged Mohy's cheeks were wet with tears as he grieved for his friend Maged Ahmed Youssef, under a sheet nearby. "We hate the Egyptian police," he said. "We hate Sisi and his supporters," he said, referring to army chief Gen. Abdel Fattah al-Sisi, who executed Morsi's ouster. "I wish to see Sisi and all his supporters killed like this."
A man read the names of the dead, calling them martyrs, over the mosque's loudspeakers. Outside,crowds chanted "Islamic! Islamic!" as they rallied the protesters facing police. Karam Risk, who received a birdshot wound in his chest, sat in the shade, resting.
"We are fighting for freedom, for dignity, for our voice," he said. "And we will win. We will put an end to this today. This is not for my freedom, but for my daughter's."
Scapegoats
Outside Cairo, those angered by the crackdown clashed with police, attacked police stations, and burned churches. Ishak Ibrahim, a researcher for the Egyptian Initiative on Personal Rights, says churches were attacked in the city of Suez and throughout southern Egypt, including Fayoum, Minya, the village of Delga, and Sohag, where a large church was set on fire. Christian homes and businesses were also attacked in Assiut and the province of Minya, he says. He expects the violence to worsen. 
Muslim Brotherhood and Islamist figures have repeatedly accused Christians of fomenting the anti-Morsi protests, stoking anger and bigotry against Christians. Earlier this week, a speaker on stage at the protest camp blamed Christians for betraying Egypt. After Morsi's ouster, Christians were attacked in southern Egypt, where they make up a larger percentage of the population and sectarian violence is common.
Muslim Brotherhood leader Amr Darrag says the Brotherhood condemned violence against Christians, and suggested the attacks on churches were carried out by security forces in an effort to smear Islamists. Mr. Ibrahim said local priests blamed them on Islamists and Morsi supporters.
The police crackdown will not stop the protesters, Mr. Darrag says. "What is happening today is not just happening to the Brotherhood. This is a full war against democracy. The masses in the streets are more determined to stay and open new locations for sit ins, and keep on peacefully protesting until they get what they are asking for."
The standoff began when the military removed Morsi on July 3, after massive nationwide protests calling for him to step down. Since then, the military has appointed an interim president and the interim government has laid out a roadmap for new elections.
But the Brotherhood and Morsi supporters have camped out and refused to negotiate or participate in the political process, insisting that Morsi must first be reinstated. The public, frustrated with his refusal to govern inclusively and his failure to fix the failing economy, had largely turned against Morsi. Many are now cheering the crackdown on his supporters.
In the street near the larger protest camp, local residents cursed the Morsi supporters who put up roadblocks to hamper police. As the protesters wailed that those inside the camp were being killed, one resident, who refused to give his name, said "Good. Let all of them die there."